MONO INC. (DE) – Symphonic Live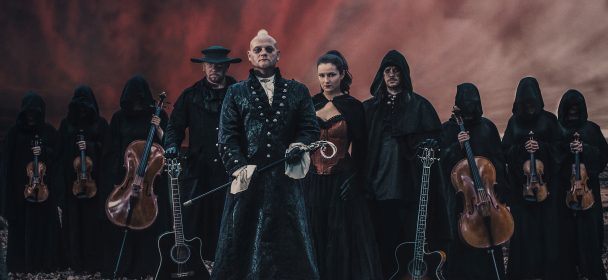 Irgendwie kann man nicht wirklich das neue Album von Mono Inc. erklären, ohne nochmal einen kl. Rückblick auf den Vorgänger "Welcome To Hell" zu werfen, bzw. dessen Bonus-CD, auf der die Studio-Songs nochmal in kleinem Stil klassisch intoniert wurden. Das gefiel vielen Menschen, also wurde eine Tour daraus, die dauerhaft ausverkauft wurde. "Symphonic Live" ist ein Zeuge der Geschehnisse im Leipiger Haus Auensee dieser Tour. Die klassisch-klingende Bonus-CD von "Welcome To Hell" wurde opulenter ausgebaut, Bühnen-fähig gemacht und feierte mit einem gelungenen Mix aus alten, neuen und noch nie live gespielten Songs, einen regelrechten Triumphzug durch die Republik, ein Blick auf die Tracklisten der beiden CDs im mir vorliegenden 2-CD Digipack, lässt Freunden, Fans und Follower vor Freude das letzte Blut in den Adern gefrieren. Erschienen ist "Symphonic Live" nach meinen Informationen auch als limitierte 2CD-Digiversion mit DVD und als hochwertige Box mit allerhand Kleinkram, den der geneigte Sammler gern in sein Herz schließt.
Fazit: Es muss wirklich spannend an diesem Abend in Leipzig gewesen sein, das bringen die CDs allemal sehr gut rüber. Ein Gläschen Wein, eine vom Mond regelrecht verdrängte Sonne…und man kann sich an dem Album nicht satt hören. Sehr feiner Sound, bärenstarke und nur mit Hits versehene Setlist…alle Daumen hoch, und für die stetig wachsenden Horden von Zuhörern eine Blindkaufempfehlung.
Tracklist:
CD1 (32:32 Min.)
01. Welcome To Hell
02. Kein Weg Zu Weit
03. Long Live Death
04. If I Fail
05. Time To Go
06. Risk It All
07. Get Some Sleep
CD2 (63:47 Min.)
01. Symphony Of Pain
02. Funeral Song
03. Gothic Queen
04. In My Darkest Hours
05. Boatman
06. Forgiven
07. In My Heart
08. Arabia
09. Voices Of Doom
10. Children Of The Dark
11. Under A Coal Black Sun
Line-Up:
Martin Engler – Vocals
Carl Fornia – Guitars, Vocals
Manuel Antoni – Bass, Vocals
Katha Mia – Drums, Vocals
Desweiteren an der Tour beteiligt ("…5 stygische Streicher und ein mystischer Pianist…" -Promo-Info):
Ilja John Lappin & Rabea Bollmann – Cellos
Ida Luzie Philipp – Viola
Felicitas Fischbein & Laura Zimmermann – Violin
Simon Zlotos – Piano
VÖ: 24-05-2019
Label: NoCut Entertainment / SPV
Herkunft: Deutschland
Genre: Dark Rock, Gothic
Internet:
FB – https://www.facebook.com/monoinc/
HP – http://mono-inc.com/
Youtube:
Ähnliche Artikel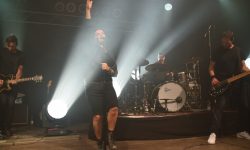 Gefühlt sind Die Happy jedes Jahr um diese Zeit auf Tour und somit auch im Musikzentrum zu Hannover. Letztes Jahr
Weiterlesen