AMON AMARTH- The Pursuit Of Vikings: 25 Years In The Eye Of The Storm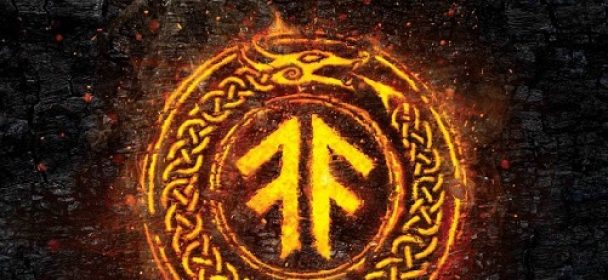 Amon Amarth (S) "The Pursuit Of Vikings: 25 Years In The Eye Of The Storm"
Live-CD/DVD/Filmdoku
Label: Sony Music/MetalBlade
Genre: Death Metal
VÖ: 16.11.2018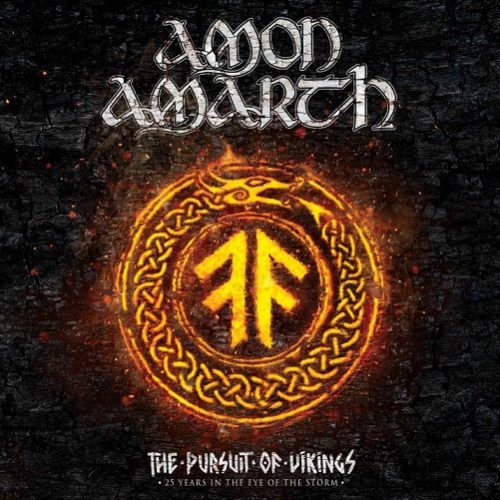 AMON AMARTH setzen sich ein Denkmal!
Gut 30 Jahre sind deren Gründungsmitglieder im Metalgeschäft und unter dem Namen "Amon Amarth" seit 1992 aktiv!
Aus dem tiefsten Underground Schwedens in die große Welt des Musikbusiness!
Wer die Band kennt (eigentlich jeder!), schätzt deren coole Riffs, eingängige Melodien als auch die pure Leidenschaft und den Spaß bei der Sache – und auch außerhalb der Bühne natürlich. Für mich zählen Amon Amarth seit jeher, vor allem auch aufgrund der ersten, interessanten Interviews Anfang der 00er Jahre, die wir von metalglory durchgeführt hatten, zu den AC/DC des Death Metal. Ob es damals die kleinen Clubshows waren oder auch die ersten No Mercy Festivals, als Support von Headlinern wie Immortal & Vader als auch später die etwas größeren Hallen und Open-Air-Festivals, zuletzt 2017 beim Reload in Sulingen: Amon Amarth blieben sich treu und wussten, dass sie sich auf ihre Fans verlassen können – und ganz wichtig ständig neue hinzubekommen möchten, sich weiterentwickeln wollen ohne dabei die Wurzeln zu verlassen. Das haben sie über die Jahre geschafft.
Heute sind sie richtig groß und das schon seit einiger Zeit. Entsprechend riesig sind auch die Bühneshows und mittlerweile bedienen sie auch pure Entertainment on stage, Viking Schwertkampfshow, Schiffsnachbau auf der Bühne, Feuer, Pyro und obendrein lupenreiner, ohrwurmtauglicher Death Metal!!!
Überzeugend umgesetzt wurden nun auch die letzten Shows der letztjährigen Tour vom Summer Breeze Festival und erscheinen nun als Album unter dem Titel "The Pursuit Of Vikings: 25 Years In The Eye Of The Storm".
Etliche Songs, super Sound und pure Energie der Schweden. Wer sie mal live gesehen hat, der wird wissen, dass diese Band ihr Geld wert ist. Die Kids von heute tragen genauso gern ihre Shirts, wie die Fans der ersten Stunde, aus den 90er Jahren. Von daher wird es kein Problem auch dieses spezielle Livealbum unters Volk zu bringen; es gibt eben was zu feiern!
Doch die Schweden haben sich was zusätzlich einfallen lassen, um das gewisse Jubiläum abzufeiern.
Eine Dokumentation über die Band, die auch als Kinoversion zu sehen ist und natürlich als Blu-ray und DVD erscheint.
Zahlreiche Liveauftritte, Fotos aus den ersten Tagen der Band, Anekdoten und Studioberichte gibt es zu sehen. Die Band präsentiert sich den Fans, "zieht die Hosen runter" und ist selbst immer noch erstaunt, wie weit sie es bis dato geschafft hat – und eben auch weitermacht! Was sie jedoch ganz klar nicht aus dem Fokus verlieren, sind die Fans aus aller Welt, was in der Doku auch entsprechend deutlich wird. Gute 100 Minuten pure Film-Unterhaltung, um hinterher auch gleich die beiden Shows vom Summer Breeze – für insgesamt fast drei Stunden zu genießen!
Fazit:
Met, Trinkhorn, Volume 10 und auf ins Vergnügen.
Glückwunsch Amon Amarth, auf die nächsten 25 Jahre!
Folgende Formate werden vom "The Pursuit Of Vikings"  erhältlich sein:
– CD/2DVD 8-Panel Digipak
– Blu-ray (inklusive Audio Digital Download der Main Stage-Show)
– Special Edition Hardcoverbuch mit 6 Discs (3DVD, 2CD, 1 Blu-ray) plus Amulett und Aufnäher (Import: limitiert auf 500 Exemplare)
– Transparentes Vinyl in orange (exklusiv für den US Handel – limitiert auf 500 Exemplare)
– Klares Vinyl mit schwarzem Splatter (exklusiv im US Webstore – limitiert auf 250 Exemplare)
– Transparentes Vinyl in gelb mit orangem Marmor-Muster (exkluisv im US Webstore – limitiert auf 250 Exemplare)
CD Tracklist (Main Stage Show 2017):
1. The Pursuit of Vikings
2. As Loke Falls
3. First Kill
4. The Way of Vikings
5. At Dawn's First Light
6. Cry of the Black Birds
7. Deceiver of the Gods
8. Destroyer of the Universe
9. Death in Fire
10. Father of the Wolf
11. Runes to My Memory
12. War of the Gods
13. Raise Your Horns
14. A Dream That Cannot Be
15. Guardians of Asgaard
16. Twilight of the Thunder God
DVD Digipak /  Blu-ray Tracklist:
– Dokumentation (103 Min.)
– T-Stage Show vom 16. August 2017 (80 Min.)
1. Twilight of the Thunder God
2. Free Will Sacrifice
3. With Oden on Our Side
4. The Last with Pagan Blood
5. For the Stabwounds in Our Backs
6. Thousand Years of Oppression
7. Gods of War Arise
8. Versus the World
9. Asator
10. Under the Northern Star
11. Fate of Norns
12. Varyags of Miklagaard
13. Live for the Kill
14. Victorious March
–Main Stage Show: August 17th, 2017 (90 Min.)
1. The Pursuit of Vikings
2. As Loke Falls
3. First Kill
4. The Way of Vikings
5. At Dawn's First Light
6. Cry of the Black Birds
7. Deceiver of the Gods
8. Destroyer of the Universe
9. Death in Fire
10. Father of the Wolf
11. Runes to My Memory
12. War of the Gods
13. Raise Your Horns
14. A Dream That Cannot Be
15. Guardians of Asgaard
16. Twilight of the Thunder God
Vinyl (Main Stage Show vom 17. August 2017):
SIDE A
1. The Pursuit of Vikings
2. As Loke Falls
3. First Kill
4. The Way of Vikings
SIDE B
5. At Dawn's First Light
6. Cry of the Black Birds
7. Deceiver of the Gods
8. Destroyer of the Universe
9. Death in Fire
SIDE C
10. Father of the Wolf
11. Runes to My Memory
12. War of the Gods
13. Raise Your Horns
SIDE D
14. A Dream That Cannot Be
15. Guardians of Asgaard
16. Twilight of the Thunder God
Ähnliche Artikel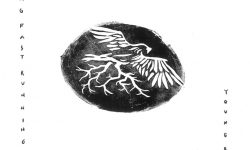 YOUNG BIRD ist bereits der zweite Streich des Young Fast Running Man, einem gebürtigen Landshuter, der unter dem bürgerlichen Namen
Weiterlesen