THE RODS (USA) – Brotherhood Of Metal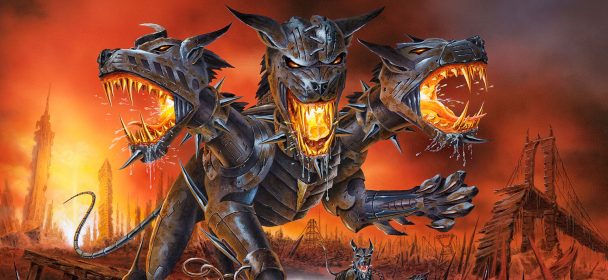 Die Truppe um David Rock Feinstein dürfte (sollte!) allen Rock- und Metalheads ein Begriff sein. Die 80er Alben Rock Hard (später als The Rods wiederveröffentlicht), Wild Dogs, Full Throttle EP, The Rods Live, In The Raw, Let Them Eat Metal, Heavier Than Thou & Hollywood, sollten in keinem Puristenregal fehlen. 1986 gingen die Musiker getrennte Wege, 2011 gab es mit Vengeance ein neues Lebenszeichen in Albumform und nun steht aktuell Brotherhood Of Metal in den Verkaufsregalen der Welt. Ich war derbe auf den Release gespannt, wie wohl der zackige und bissige Mix aus US Metal und Rock Anno 2019 klingt…
Fazit: Es ist ein wildes, aber doch gereiftes Album. Musikalisch qualitativ noch wertiger als das gute 2011er Comeback, doch ganz nahtlos reiht es sich von seiner Ungezügeltheit her, nicht in die Klassikerreihe ein. Ob es dazu kommen wird, können mir vllt meine Töchter mal verraten, aber mir gefällt das unbeschwerte laute Aufbäumen gegen das fortschreitende Alter sehr gut. Eingängig und einfach, verbreiten die Amerikaner um Dio´s Cousin David Rock Feinstein, den Spirit des Früh-80er Rock- und Metalaufruhrs, als man beide Genre einfach wild miteinander mischte, ohne wirklich angestaubt oder gar retro zu klingen. Das MUSS von Freunden der lauten Gitarrenmusik gehört werden und mich würde es nicht wundern, wenn man mit Brotherhood Of Metal nicht sogar noch Follower, Fans & Freunde ins Boot holt. Alle Pommesgabeln hoch!
Tracklist:
Brotherhood Of Metal 7:28
Everybody's Rockin' 3:57
Smoke On The Horizon 4:47
Louder Than Loud 4:15
Tyrant King 4:38
Party All Night 2:49
Tonight We Ride 4:40
1982 5:16
Hell On Earth 4:20
The Devil Made Me Do It 3:54
Evil In Me 6:26
Line-Up:
David "Rock" Feinstein (Guitar/Vocals)
Garry Bordonaro (Bass/Vocals)
Carl Canedy (Drums/Vocals)
VÖ: 07-06-2019
Label: SPV / Steamhammer
Spielzeit: 52:37 Min.
Herkunft: USA
Genre: Rock, Hard Rock, Heavy Rock, Metal, Heavy Metal
Internet:
FB – https://www.facebook.com/RodsFanPage/
Youtube:
Ähnliche Artikel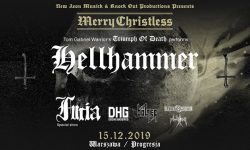 Dieses Jahr findet das von Behemoth präsentzierte Festival MERRY CHRISTLESS in nur einer Stadt statt und zwar in Warschau, Progresja
Weiterlesen