PHIL CAMPBELL AND THE BASTARD SONS (UK) – The Age Of Absurditiy
Ehrlich, wer hätte von Phil Campbell etwas anderes als Motörhead Sounds erwartet? Ok, er ging mit seiner halben Familie in die Abbey Road Studios um das Album bestmöglich klingen zu lassen (was ihm auch gelungen ist!), das war es aber auch schon als einzige Gemeinsamkeit mit den wohl berühmtesten Abbey Road Besuchern, den BEATLES! Auch mit seinen Söhnen macht der Hardrocker klar, dass ihm der dreckige Rock´n´Roll am besten zu Gesicht steht, und lebt ihn auch auf "The Age Of Absurdity" voll aus. Seine Familienband klingt unglaublich kompakt und es wäre unfair, nun stetig auf die Nähe zu Motörhead einzugehen oder gar darauf rumzuhacken. Aus meiner Sicht ist PHIL CAMPBELL AND THE BASTARD SONS (k)eine "neue" Rockband, deren Nähe zu anderen berühmten Genrevertretern mehr Spaß macht, als diskussionswürdig nervt.
Fazit: Vom schnellen Rocker über den Blues bis zum sogar beinahe melodischen Hard Rock, sind 11 Songs auf dem Album gelandet die entweder unglaublich viel Spaß machen und ein paar Erinnerungen wecken oder Dauernörgler dazu aufrufen, dass das sowieso alles nur nach Lemmy ohne Lemmy klingt. Das ist aber nicht wirklich der Fall, trotzdem wird es Sänger Neil Star zukünftig nicht leicht haben, denn es werden bei dem Sound garantiert immer wieder Vergleiche gezogen. Ich hoffe, die Familie Campbell kann darüber genauso locker wie ich hinwegsehen / hören und bereitet uns noch einige feine Scheiben wie diese, die (bei der Motörhead-Gefolgschaft sowieso!) Hard Rock Freunden der etwas derberen Art, Gehör und Anklang finden sollte. Und nun bitte einen musikalischen Familienausflug durch Europa! Ich las, die Bonus-Edition enthält noch den Song "Silver Machine", eingespielt mit einem (?) Original-Hawkwind Mitglied…
Tracklist:
1. Ringleader 4:04
2. Freak Show 3:41
3. Skin and Bones 3:49
4. Gypsy Kiss 2:22
5. Welcome To Hell 3:06
6. Dark Days 4:44
7. Dropping The Needle 1:50
8. Step Into The Fire 3:32
9. Get On Your Knees 3:28
10. High Rule 3:55
11. Into The Dark 6:37
Line-Up:
Phil Campbell – Guitars, Vocals
Todd Campbell – Guitars, Vocals
Dane Campbell – Drums
Tyla Campbell – Bass, Vocals
Neil Starr – Lead Vocals
VÖ: 26-01-2018
Label: Nuclear Blast
Spielzeit: 41:15 Min.
Herkunft: UK
Genre: Hard Rock
Internet:
HP – http://www.philcampbell.net/
FB – https://www.facebook.com/PhilCampbellATBS/
Youtube:
Tourdates: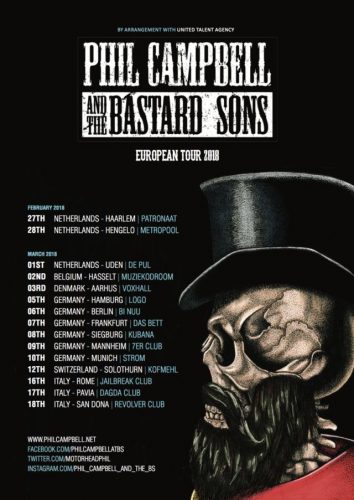 Ähnliche Artikel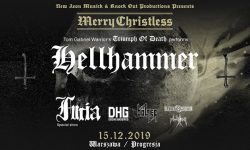 Dieses Jahr findet das von Behemoth präsentzierte Festival MERRY CHRISTLESS in nur einer Stadt statt und zwar in Warschau, Progresja
Weiterlesen