SAMAVAYO (DE) – Vatan
Alter Schwede…Samavayo erfinden sich neu, oder suchen sie noch nach dem richtigen Weg durch die Zunahme des Element Progressive? Bis dato war mir die Band nur bekannt für kompromisslosen Stoner / Pyschedelic / Heavy Rock, mit leichten Tendenzen zu Alternative-Melodien. Doch auf "Vatan" wird zugelegt. An ziemlich allen Ecken und Kanten hat die Band noch weitere Wege gefunden, mehr Kanten durch Progressivität zu initiieren, und schob auch etwas mehr Groove in den Vordergrund des gewohnten Sound. Alles klingt durchdachter, irgendwie direkter, aber auch teilweise düsterer. Der Albumtitel "Vatan" bezieht sich gewiss nicht auf Präsident Erdogans Zeitung, sondern setzt sich mit dem Begriff "Heimat", aus der Feder von der iranischen Schriftstellerin Simin Behbahani, in Gedichten und Versen, auseinander. Weshalb man den Titelsong respektvoll auch in gut einstudierten persischen Lyrics präsentiert, ohne nur einen Funken Brisanz zu verlieren. Dass sich einige der orientalischen Instrumente in Rock- und Metal-affinen Songs bestens einfügen und ergänzen, wissen Musikfreunde nicht erst seit gestern. Die 2. und aktuelle Single "Sirens" ist ein melodisches Stoner Groove-Monster mit hypnotischem Tribal-Drums, und überzeugt auf ganzer Linie.
Fazit: Eigentlich tut es das ganze Album: unterhalten und von sich überzeugen. Vom Klang her passend ins richtige Licht gerückt, wurde "Vatan" vom Kadavar-Live-Mischer Richard Behrens. Als Freund genannter Genre, muss man das Album kennen! Seit heute auf kurzer Tourreise (nur mal wieder nicht bei mir, verdammt!):
09.11.18 (D) Berlin | Musik & Frieden *
10.11.18 (D) Stuttgart | Keller Klub *
11.11.18 (A) Vienna | Viper Room Vienna *
12.11.18 (D) Munich | Feierwerk *
13.11.18 (CH) Olten | Coq d'Or *
14.11.18 (D) Cologne | Helios37 *
15.11.18 (UK) London | The Underworld Camden *
16.11.18 (FR) Paris | GLAZART *
17.11.18 (D) Netzeband | 10. Rock am Brink
* supporting Greenleaf
Tracklist:
01 Prevarication Nation
02 Vatan
03 Sirens
04 The Hate Of Thousands
05 Marionette
06 Time To Die
07 Children Of Kobane
Line-Up:
Behrang Alavi – Guitars, Vocals
Stephan Voland – Drums, Backing Vocals
Andreas Voland – Bass, Backing Vocals

VÖ: 23-11-2018
Label: Noisolution
Spielzeit: 45:31 Min.
Herkunft: Deutschland
Genre: Rock, Heavy Rock, Stoner Rock, Psychedelic Rock, Progressive, Alternative
Internet:
FB – https://www.facebook.com/samavayo/
HP – https://www.samavayo.com/
Youtube:
Ähnliche Artikel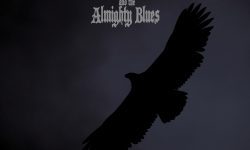 2015 erschien das sebstbetitelte Debüt der Norweger, 2017 legten sie mit "II" nach und nun wurden alle Trademarks der ersten
Weiterlesen