MOMENT OF DETONATION (DE) – Unconscious Acts Of Retrospective Ventriloquism EP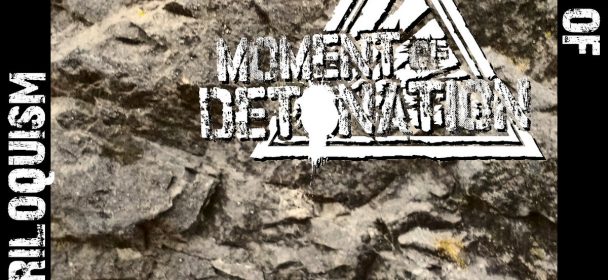 Die "glücklicherweise wieder unsigned" (?) Moment Of Detonation experimentieren und musizieren seit 2012 zu zweit und leben ihre Liebe für rumpeligen Metal und Stilkreuzungen aller Art aktuell auf der klangvollen EP "Unconscious Acts Of Retrospective Ventriloquism" weiterhin aus. 2 EPs und ein Full-Length Album gingen dem bereits vorraus, gemischt mit Clubgigs, u.a. mit God Dethroned und Darkness. Musikalisch bewegt man sich irgendwo im Thrash, Neo Thrash, Death, Metal Core, Death Core, halt allerlei lauten und manchmal sehr schrägen, brutalem Metal. Grundsätzlich mögen die Beiden wohl keine normalen geordneten Songstrukturen, doch gibt es tatsächlich nachvollziehbares zu hören, was der EP definitiv das Prädikat "abwechslungsreich" verpasst. Wenn man jetzt noch mit dem kranken Gesang klar kommt, dann hat man Moment Of Detonation für sich entdeckt.
Fazit: Leichte Kost ist anders. Das hier ist hart, schräg, laut, unkontrollierbar, aber geil! Support The Underground!
Die EP bekommt ihr für selten wenig Geld direkt bei der Band via bandcamp!
Tracklist:
01 Owe Me Awe
02 The Needle And The Threat
03 Unconscious Acts Of Retrospective Ventriloquism
04 Metaphor
05 Bitter
06 Consider Xourself Defied
Line-Up:
Andreas Lohse (Ex-Lost Century, Ex-Thoughtsphere) – Vocals
Thor Stone  – Guitars
VÖ: 01-11-2019
Label: Self Release
Spielzeit: 27:07 Min.
Herkunft: Deutschland
Genre: Metal, Thrash Metal, Neo Thrash Metal, Death Metal, Death Core, Metal Core
Internet:
FB – https://www.facebook.com/momentofdetonationband/
HP (Bandcamp) – https://momentofdetonation.bandcamp.com/
Ähnliche Artikel
Tom Morello hat mit seiner Band Rage Against The Machine Musikgeschichte geschrieben, hat aber auch zahlreiche andere Projekte, wie Prophets
Weiterlesen