KING BUFFALO (USA) – Longing To Be The Mountain
King Buffalo schicken sich an, den nächsten Level anzutreten. Nach dem erfolgversprechenden Debüt und den folgenden EP´s, erscheint nun Longplayer Nummer 2, "Longing To Be The Mountain" und es tut sich die Frage auf, schaffen es die Amerikaner mit ihrem leicht eigenwilligen Mix aus Krautrock, Psychedelic Rock und Stoner Rock, sich selbst zu toppen oder klingt alles zu sehr nach Kopie des Erstlings? Nein, so einfach machen es uns die 3 Büffelkönige nicht! Eine leichte, und positive Kurskorrektur wurde eingelegt, doch keine Angst: sie werden garantiert immer noch keine Mainstreamradioerfolge feiern können. Aber umso mehr, bei der Anhängerschaft punkten, die ein kleines bißchen mehr Wert auf Melodie legt.
Fazit: Die 3 Herren denken überhaupt nicht daran, den grundsätzlichen Bandsound zu verändern. Lediglich Nuancen in Punkto Eingängigkeit wurden verändert, doch progressives aber verträumtes Rumpeln, musste keiner Pop-Attitüde weichen, um ggf. neue Hörerkreise zu erschliessen. "Longing To Be The Mountain" wird auch ohne Anbiederung an Trends, seine Freunde und Hörer finden und ich hoffe sehr, dass ich die Band auch nochmal zu Gesicht bekomme, denn genau das, möchte ich auf der Bühne erleben. Sehr basisch und doch klar produziert, wird das Album auch auf Vinyl erscheinen…und dann würde ich mir glatt ein Vergleichsreview erlauben, denn ich bin mir ebenso sicher, dass das mit dem leisen warmen Knistern, meinem Gehör noch viel mehr schmeicheln wird. Ein heranschleichendes Highlight im Jahr 2018!
Übrigens, die Band stellt diverse Bootlegs von vergangenen Shows für jedermann frei zum Download. Einfach mal die Homepage besuchen!
Tracklist:
01 – Morning Song
02 – Sun Shivers
03 – Cosmonaut
04 – Quickening
05 – Longing To Be The Mountain
06 – Eye Of The Storm
Line-Up:
Sean McVay – Guitar & Lead Vocals
Dan Reynolds – Bass & Lights
Scott Donaldson – Drums & Vocals
VÖ: 12.10.2018
Label: Stickman Records
Spielzeit: 41:52 Min.
Herkunft: USA
Genre: Psychedelic Rock, Space Rock, Stoner Rock
Internet:
FB – https://www.facebook.com/kingbuffaloband/
Youtube:
Ähnliche Artikel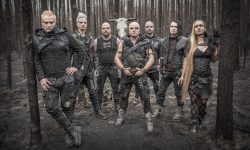 "Die Zeit ist nahe! Die Stunde der Offenbarung steht bevor! Vergesst die Theorien über Polsprung, Eiszeit und Asteroideneinschläge und macht
Weiterlesen