HORSEMAN (DE) – Of Hope, Freedom And Future
Modern Metal mit Groove und tiefgehenden Inhalten, beschert uns bereits zum 3. Mal der Horseman aus Deutschland. Nach nur knapp 7 Jahren, veröffentlichte die Band jetzt "Of Hope, Freedom And Future" und definiert den Bandsound leicht modifiziert, neu, sprich: mehr Groove, weniger Geknüppel (bzw. anders, als auf den beiden Vorgängern), astreine und treibende Riffs sowie ´ne Menge Bumms und Vibration durch Drums und Bass. Ok, jetzt zu behaupten, es wäre weniger heavy als die Jahre zuvor, wäre an der Stelle arg vermessen, aber man hört doch, dass die Musiker jetzt gezielter agieren.
Fazit: Eigentlich ein großartiges Album, welches bei mir grade den drölfzigsten Durchlauf startet, aber ich habe doch etwas zu bemängeln. An der englischen Aussprache, könnte definitiv noch mächtig gefeilt werden. Es gibt auch bedeutend schlechtere Sänger (oder Brüllwürfel), aber hier fällt es mir (und meiner Mithörerin amerikanischer Abstammung) arg auf, dass da so einige Defizite vorherrschen. Auch die Gitarren sind produktionsbedingt (?) etwas zu leise ausgefallen, vielleicht ist das aber so gewollt, um mehr von dem erdigen Groove durchwinken zu können. Letztendlich kein Grund, auf´s anchecken zu verpflichten, denn Freunde des aggressiveren Modern Metals, könnten mit dem Pferdemann eine Menge Spaß haben. Alle Daumen hoch!
2 Livedates stehen in diesem Jahr auf jeden Fall noch an:
20.10.2018 DE Bielefeld – Teestube
17.11.2018 DE Bad Oeynhausen – AK Bel Etage
Tracklist:
01. Of Hope, Freedom And Future
02. A Thousand Wars
03. Hunters
04. See Me Hanging
05. The Monsters I Feed
06. Die Gedanken Sind Frei
07. Teach Them To Question
08. An Open Mind Breaks Down Walls
09. The Giant
10. Fools Keep Marching
11. The Final Dance
12. Shellshock
Line-Up:
Stefan Böhm – Vocals
Malte Edinger – Guitars
Gregor Panic – Guitars
Christoph Brennecke – Bass
Michael Kolar – Drums
VÖ: 21-09-2018
Label: Massacre Records
Spielzeit: 47:43 min.
Herkunft: Deutschland
Genre: Metal, Modern Metal, Groove Metal
Internet:
FB – https://www.facebook.com/Horsemanmetal/
Youtube:
Ähnliche Artikel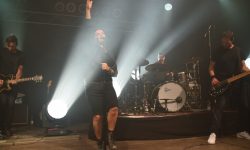 Gefühlt sind Die Happy jedes Jahr um diese Zeit auf Tour und somit auch im Musikzentrum zu Hannover. Letztes Jahr
Weiterlesen