GLORIA VOLT (CHE) – All The Way Down
"All The Way Down" ist bereits das 3. Album der Schweizer Gloria Volt und für mich das 1. Album der Band, welches ich kennenlernen darf. Und nur weil es Schweizer sind, sollten man die Herren nicht gleich in die Krokus / Gotthard Kiste packen , denn die 5 Musiker sind bei weitem kein weiterer AC/DC Hardrock-Klon sondern kochen sehr wohl ihr ganz ein eigenes Süppchen mit den Hauptzutaten, Blues, Rock, Hardrock sowie ´ner Menge Spiellust und gute Laune. Wobei: wenn man wirklich will, findet man in jeder Band etwas AC/DC oder Mötley Crüe oder Motörhead, oder, oder, oder…doch zitieren Gloria Volt ihre Einflüsse nicht einfach sondern fahren irgendwie auf der Schiene neben dem australischen Rock´n´Roll Train und müssen sich in keinem Schatten verstecken! Songs wie "Dreamer", "Never Ever", "Keep This Time…", "Live My Life" und viele mehr, tragen deutlich eigene Handschrift, lassen Kopf und Beine mitwippen und das Bier doppelt gut schmecken.
Fazit: Das einzige zu besprechende Manko ist die Tatsache, dass nach knapp 35 Minuten für die 8 Songs alles schon vorbei ist. Ich bitte um Nachschlag!!! Auch hier ist Ancheckpflicht für die Hardrocker mit Hang zum Bluesrock, die sich gern anhören, dass man auch ohne AC/DC Stempel dreckigen, auf den Punkt kommenden Gitarrenrock spielen kann, der aber in bester eidgenössischer Art geerdet ist und nicht wie ähnlich gelagerte Kollegen durchdrehen muss!
Tracklist:
01. Dreamer
02. Never Ever
03. Lose Alone
04. Keep This Time (In Your Heart)
05. Dance With The Devil
06. Live My Life
07. Sydney
08. Poison My Blood
Line-Up:
Fred Volvo – Vocals
Pim Peter – Lead Guitar
Marino Maronni – Bass
Pascal Goodnight – Drums
Lord Latex – Rhythm Guitar
VÖ: 25-05-2018
Label: Lux Noise / Cargo Records
Spielzeit: 34:52 Min.
Herkunft: Schweiz
Genre: Rock, Hard Rock
Internet:
FB – https://www.facebook.com/gloriavoltrock/
HP – http://www.gloriavolt.com/
Ähnliche Artikel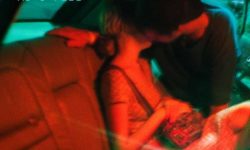 Gerade einmal ein Jahr ist es her, dass die Londoner Band mit "Severed" im Juni 2017 ihr gefeiertes Debüt vorgelegt
Weiterlesen