CIRCUS OF FOOLS (DE) – REX
Bei Circus Of Fools scheint es richtig zu laufen; 2012 gegründet, 2015 (beeindruckendes) Debütalbum vorgelegt, 2017 den Newcomer Wettbewerb des M´ERA LUNA Festivals gewonnen und nun, 2018, liegt mir Album Nummer Zwo vor mir. "Rex" heißt das Werk, was bestimmt auch in der etwas breiteren Menge Fuß fassen kann. Es ist die Mischung aus Melodic Death und Gothic Metal, die unter dem Zirkuszelt viele weitere, kreative Facetten frei lässt, und mich begeistert. Circus Of Fools haben damit ihren ganz eigenen Sound kreiert, der sie unverwechselbar macht. Wenn das, was ich las, auch noch stimmt, dann sind definitiv auch Zauberer in deren Proberaum unterwegs… (ich las, dass das Album direkt im Proberaum der Band aufgenommen wurde!). Fett und ausgeglichen geerdet, klingt "Rex" und wird einen sicheren Platz in meiner Jahres-Top-Ten einnehmen.
Fazit: Theoretisch liegen Death Metal und Gothic gar nicht so weit auseinander. Und praktisch, haben Circus Of Fools genau dieses Bindeglied gefunden, oder gar selbst kreiert und sich damit, jetzt schon einen eigenen Bandsound geschneidert, der nicht nur Death Metal Fans und Gothics zum Hören einlädt, sondern durch die vielen (manchml auch   poppigen) zuckersüßen und traurigen Melodien auch ganz anderes Publikum (Bewusst? Unbewusst?) im Visier hat, bzw. später in den Locations begrüßen lässt. Meine absoluten Hits und Anspieltipps heißen "Fallen Paradise" und "Sideshow: das letzte Sandkorn fällt". Beide Songs glänzen durch ihre musikalische Vielfalt und lassen allen Bandmitgliedern Möglichkeiten, sich virtuos auszuleben. Und eigentlich ist das auf dem ganzen Album der Fall…
Tracklist:
01.Testimony Of An Ignorant Prick
02. Caligula
03. Watch Me
04. Sideshow: Das letzte Sandkorn fällt
05. Fallen Paradise
06. Styx 2.0
07. Drag Me Onto Your Orbit
08. Sisyphos Was Wrong
09. Smile Baby, Chelsea Smile (Feat. Antoine Marionette)
10. Ride on, Euphoria!
11. Another World Within
12. From Dusk Till Dawn (Feat. John Gahlert)
Line-Up:
Tim Strouken – Vocals, Programmings
Carolin Saia – Vocals
Dominik Bolter – Guitars
Julian Langer – Guitars
Yannick Ninkov – Bass
Coen Strouken – Viola
Nico Staller – Drums
VÖ: 31-08-2018
Label: Bleeding Nose Records
Spielzeit: 57:44 Min.
Herkunft: Deutschland
Genre: Melodic Death Metal, Gothic Metal, Alternative Metal
Internet:
FB – https://www.facebook.com/theCOFofficial
HP – http://www.circusoffools.de/
Youtube:
Ähnliche Artikel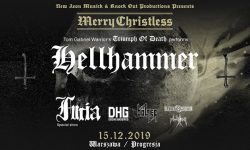 Dieses Jahr findet das von Behemoth präsentzierte Festival MERRY CHRISTLESS in nur einer Stadt statt und zwar in Warschau, Progresja
Weiterlesen