ULTRA-VIOLENCE (ITA) – Operation Misdirection
"Operation Misdirection" ist das 3. Album der italienischen Thrash Formation Ultra-Violence, wenn man die erste EP mal aussen vor lässt. 2009 gegründet, zeigt die Band von Album zu Album eine konsequente Weiterentwicklung was Songwriting & Spiel betrifft. Heraus kam dabei aktuell ein Album, welches Italien doch erlaubt, schon mal ´ne Fahne dem Thrash Metal-Olymp  entgegenzustrecken. Ist Turin die zukünftige Bay Area Europas? Ok, man muss es nicht gleich übertreiben, doch mich hat "Operation Misdirection" vom ersten Moment an überzeugt. 80er Thrash wie er von Metallica, Slayer, Exodus & Co. zelebriert wurde, aber teilweise mit Groove a la Pantera versetzt wurde, wummert exzellent produziert, durch meine heiligen Hallen.
Fazit: "Money For Nothing" ist sicherlich mal ganz witzig, in der Thrash-Version zu hören, doch mir hätte an der Stelle, eine knackige Eigenkomposition besser gefallen. Ich empfehle ruhigen Gewissens allen Thrashern, unbedingt Ultra-Violence anzuckecken.
Tracklist:
01. Cadaver Decomposition Island
02. Welcome To The Freakshow
03. My Fragmented Soul
04. The Acrobat
05. Nomophobia
06. Money For Nothing (Dire Straits)
07. The Stain On My Soul Remain
08. Shining Perpetuity
09. Burning Through The Scars
10. Spell Of The Moon
Line-Up:
Loris Castiglia – vocals, rhythm guitar
Andrea Vacchiotti – lead guitar
Andrea Lorenti – bBass
Francesco "Frullo" La Rosa – drums
VÖ: 27-07-2018
Label: Candlelight Records
Spielzeit: 49:18  Min.
Herkunft: Italien
Genre: Thrash Metal
Internet:
FB – https://www.facebook.com/ultraviolencemetal/
Youtube:
Ähnliche Artikel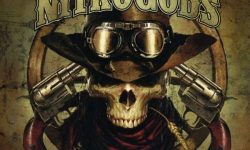 Getreu dem Motto "Three Men Are Enough" feuern die Nitrogods auch auf ihrem vierten Album wieder aus allen Rohren. Mit
Weiterlesen