Burning Witches (CH) – Burning Witches & Burning Alive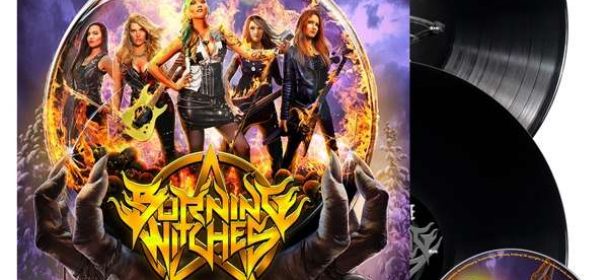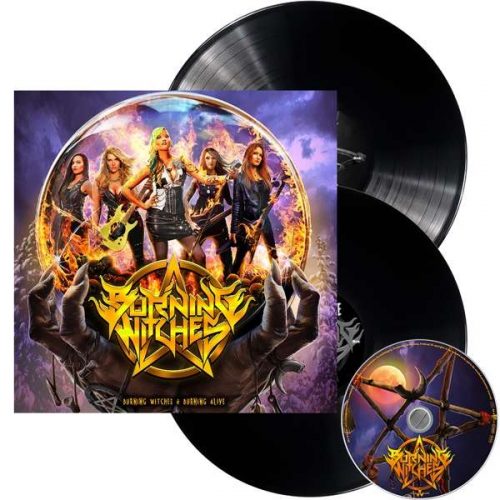 Mit ihrem zweiten Album "Hexenhammer", dem ersten bei Nuclear Blast, haben die Schweizerinnen für mächtig Furore und Aufmerksamkeit gesorgt. Ihre gerade laufende Tour mit Grave Digger ist teilweise ausverkauft und die Damen lassen die Herren an manchem Abend ganz schön blass aussehen (Fotos, Bericht und Interview aus Hannover findet ihr an anderer Stelle auf unserer Seite). Doch bereits 2017 erschien das Debütalbum, dem mit "Burning Alive" eine auf 500 Stück limitierte EP folgen sollte. Da beide bisher nur schwer zu bekommen waren, besonders die EP ist schon lange ausverkauft, hat sich Nuclear Blast dazu entschlossen diesem Umstand ein Ende zu bereiten.
Beide Alben erscheinen nun also zusammen als wunderschöne Doppel-LP in einer limitierten Auflage, der die CD beiliegt. Bereits hier kann man sich von der Power der Band überzeugen, was vor allem bei der Live-EP deutlich wird. Auf beiden Alben ist noch die inzwischen ausgestiegene Gitarristin Alea zu hören, deren Posten ja inzwischen die Holländerin Sonia inne hat. Klassischer Metal trifft auf Energie und Leidenschaft. Holt euch das Teil bevor Nuclear Blast "Ausverkauft" meldet.
Fazit: Ein ebenso geniales Ding wie "Hexenhammer".
Black Widow 4:04
Burning Witches 4:17
Bloody Rose 3:51
The Dark Companion 5:18
Metal Demons 2:51
Save Me 4:40
Creatures Of The Night 4:20
We Eat Your Children 3:01
Creator Of Hell 4:01
The Deathlist 5:18
Jawbreaker 3:34
Metal Demons (live) 3:09
Black Widow (live) 4:31
Holy Diver (live) 4:23
Burning Witches (live) 4:54
Label: Nuclear Blast
VÖ: 18.01.2019
Laufzeit: 62:21 Min.
Herkunft: Schweiz
Stil: Heavy Metal
Webseite:
Facebook: https://de-de.facebook.com/burningwitches666/
Ähnliche Artikel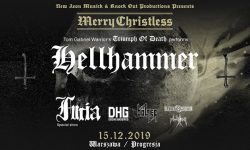 Dieses Jahr findet das von Behemoth präsentzierte Festival MERRY CHRISTLESS in nur einer Stadt statt und zwar in Warschau, Progresja
Weiterlesen