TRONOS (UK) – Celestial Mechanics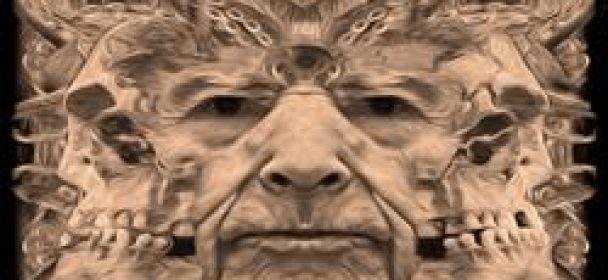 "Au weia, wo kommen die denn plötzlich her?", schießt es mir als erstes durch den Kopf, als ich mir den sehr eigenwilligen, sperrigen Mix aus Metal, Thrash, HC Anleihen, Sludge, Doom & Progressive gab. Hinter diesem musikalischem Chaos stecken Shane Embury (Napalm Death, Brujeria,…) & Producer Russ Russell. Die Gästeliste passt sich dem Stilmix an und so sind nicht nur Billy Gould (Faith No More) & "Snake" Belanger (Voivod) zu hören sondern auch Erica Nockals (The Proclaimers, The Wonder Stuff,…), Dirk Verbeuren (Drums- u.a. Megadeth,…) sowie Troy Sanders (Mastodon) & Dan Lilker von u.a. S.O.D. / Anthrax.
Fazit: Ein bißchen Düsternis im Gothic Stil, ein bißchen Electro / Industrial, dazu die oben genannten Ingredienzen,…fertig ist "Celestial Mechanics" und beschäftigt einen weit mehr als nur ein paar Umdrehungen. Weit mehr… Für Melodic Rock Ohren ist das nix, ist aber auch nicht für diese Abteilung gedacht. Hier sind klar thrashfreudige Progmetaller gefragt, für die breite Masse kann das nicht geplant sein, obwohl es verdammt gut ist. Das Label tat gut daran, sich diesem vertonten, und doch sehr direkt-in-die-Fresse-gehendem Chaos anzunehmen!
Tracklist:
01. Walk Among The Dead Things (07:48)
02. Judas Cradle (06:41)
03. The Ancient Deceit (02:57)
04. The Past Will Wither And Die (07:19)
05. A Treaty With Reality (03:08)
06. Voyeurs Of Nature's Tragedies (02:56)
07. Birth Womb (03:40)
08. Premonition (05:01)
09. Beyond The Stream Of Consciousness (03:34)
10. Johnny Blade (06:22) * Black Sabbath Cover
Line-Up:
Shane Embury – Vocals & Guitar
Russ Russell – Vocals, Guitar & Synths
Dirk Verbeuren – Drums
Guests:
Additional vocals: Denis 'Snake' Belanger & Erica Nockalls (also Violin)
Bass: Billy Gould, Troy Sanders & Dan Lilker.
VÖ: 12-04-2019
Label: Century Media
Herkunft: UK
Spielzeit: 49:28 Min.
Genre: Metal, Progressive, Sludge, Thrash, Industrial, Electro
Internet:
FB – https://www.facebook.com/Tronos666/
HP – http://www.tronos666.com/666/
Youtube:
Ähnliche Artikel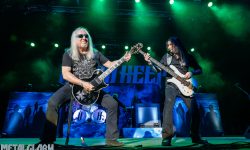 "Welche Songs spielt man im Knast? 'Stealin' natürlich und 'Too Scared To Run'. Bei 'Free Me' hatte ich Bernie angewiesen
Weiterlesen