PREZIR – "As Rats Devour Lions"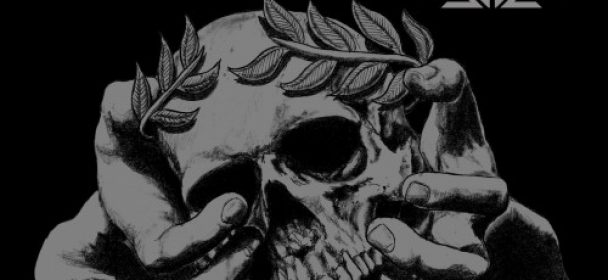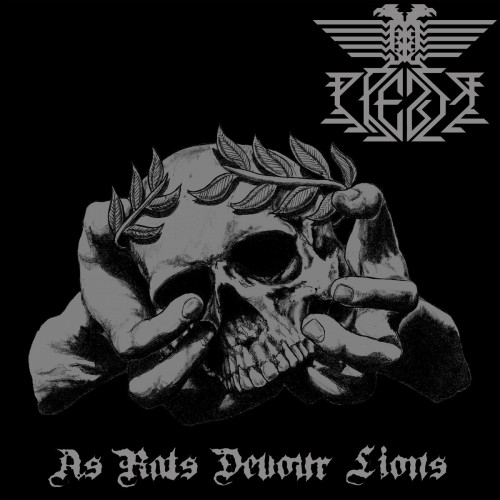 PREZIR – "As Rats Devour Lions"
Label: Godz Ov War Productions
Laufzeit: 40:29 min
VÖ: 17.09.2018
Genre: gewalttätiger Black Metal mit einer fetten Prise Thrash und Death
At the end there is an English translation.
PREZIR sind gute Köche. Und sie brutzeln uns auf ihrem Debüt "As Rats Devour Lions" einen derben Eintopf Black Metal, den sie mit saftigen Happen Thrash und Death Metal noch mal richtig schön Geschmack zusetzen. Und ja, das schmeckt ganz vortrefflich.
Los geht es oft mit einem wunderbar räudigen Thrash Riff, dass sich derb und roh in unsere Ohren prügelt ("As Rats Devour Lions", "Serpents in the House of Ra", "Ideologue Alchemy"). Erst danach ergießen sich dann die gewohnt hell und filigran flirrenden Black Metal Riffs in unsere Schädel, mäandernd zwischen faszinierendeer Dissonanz und einschmeichelnden Melodien. Das ist in seiner stets überraschenden Unberechenbarkeit fesselnd und mitreißend. Dazu gibt es immer wieder wüste Gitarrensoli, die sich quäkend winden, Haken schlagen und sich wie blutgierige junge Hunde wild herumtollend ("Oedipus Context", "Hamatsa Death Ritual", "Dar al-Harb", "Serpents in the House of Ra"") in uns glückselig machend einnisten. Grandios! Immer wieder bricht das auch explosiv aus in schädelspaltenden Death Metal, feist, breitbeinig, zähnefletschend, rasiermesserscharf ("Hamatsa Death Ritual", "Ideologue Alchemy", "Plagiarized Infamy"). Das wird erzeugt von den ultrabrutalen Riffs und dem aus einem verdreckten Kellerloch herausgewürgten Growlen einer Stimme, deren Träger man lieber hinter einer schweren Eisentür gut gesichert weiß. Der Herr Djordjevic vermag aber ebenso mit einem bösartigen, krächzenden Gekeife zu gefallen, mit dem er wütend, angepisst, garstig und bedrohlich seine Botschaften in die Welt hinausschreit, kotzt, spuckt, geifert. Da spürt man den Schaum vor dem Mund, das Rot in den Augen und die Faust frenetisch geballt.
Das Tempo wird stets hochgehalten, dafür sorgen eine wuchtige Doublebass und gnadenlos voranhetzende Blastbeats. Und gleichzeitig bleiben die Lieder mit Tempowechseln, knackigen Breaks und eingestreuten, schwer schleifenden Grooveparts jederzeit spannend und überraschend. Es ist zu jeder Sekunde zu hören, dass die Herren von PREZIR allesamt erfahrene Musiker und nicht nur Könner an ihren Instrumenten sind, sondern auch genau wissen, was sie mit all den Noten anstellen wollen und müssen, die sie ihren Saiten, Trommeln, Stimmbändern so hingebungsvoll entreißen. Das rast nicht nur erbarmungslos voran, sondern reißt mit und zaubert mir ein dickes Grinsen ins Gesicht.
Fazit: PREZIR legen mit ihrem Debüt "As Rats Devour Lions" ein brachiales Album vor, gespickt mit zorniger, hasserfüllter Musik, die mitreißend und spannend Black Metal mit räudigem Thrash und energetischem Death Metal zu einer machtvollen Feuerwalze verschmilzt. Wer solche Heroen wie Voidhänger, Gorgoroth, Infernal War, aber auch Desaster oder Taake mag, der wird auch PREZIR in sein schwarz leuchtendes Herz schließen. Ich kann nur sagen: Gratulation, meine Herren!
Genre: Violent Black Metal with a big dash of Thrash and Death
PREZIR are good cooks. And on their debut album, "As Rats Devour Lions," they brew a sturdy stew of Black Metal, adding an extra dose of flavor with juicy bites, Thrash, and Death Metal. And yes, that tastes very good.
It often starts with a wonderfully mangy thrash reef that beats rough and crude in our ears ("As Rats Devour Lions", "Serpents in the House of Ra", "Ideologue Alchemy"). Only then do the usual light and filigree shimmering black metal riffs pour into our skulls, meandering between fascinating dissonance and ingratiating melodies. This captivates in its always surprising unpredictability. There are always wild guitar solos. They wriggle, hitting hooks, frolicking like bloodthirsty puppies ("Oedipus Context", "Hamatsa Death Ritual", "Dar al-Harb", "Serpents in the House of Ra") and nesting happily in us Again and again, this breaks out explosively in skull-splitting Death Metal, feisty, wide-legged, snarling teeth, razor-sharp ("Hamatsa Death Ritual", "Ideologue Alchemy", "Plagiarized Infamy"). This is generated by the ultra-brutal riffs and the growling of a voice that is retched out of a dirty cellar hole and whose carrier is better secured behind a heavy iron door. Mr. Djordjevic, however, can also please with a malicious croak with which he shouts out angry, pissed, nasty and menacing his messages into the world, puking, spitting, drooling. There you can feel the foam in front of the mouth, the red in the eyes and the fist clenched frenetically.
The tempo is always uhold very high, a massive doublebass and merciless blastbeat ensure. And at the same time, the songs stay exciting and surprising with tempo changes, crisp breaks and scattered, heavy grinding groovy parts. and surprising. It can be heard at any moment that the gentlemen of PREZIR are all experienced musicians and not only experts in their instruments, but also know exactly what they want and need to do with all the notes they give to their strings, drums, vocal chords to wrestle with dedication. It's not just rushing mercilessly, but also pulling and conjuring me a big grin in the face.
Conclusion: PREZIR present their debut album "As Rats Devour Lions", a brutal album, peppered with angry, hateful music that blends rousing and thrilling Black Metal with mangy thrash and energetic Death Metal into a powerful fire roller. Anyone who likes such heroes as Voidhänger, Gorgoroth, Infernal War, but also Desaster or Taake, will also close PREZIR in his black glowing heart. I can only say: Congratulations, gentlemen!
Liederliste:
1. As Rats Devour Lions (5:46)
2. Ideologue Alchemy (4:54)
3. Janicari (4:47)
4. Dar al-Harb (4:38)
5. Serpents in the House of Ra (4:26)
6. Hamatsa Death Ritual (4:50)
7. Plagiarized Infamy (5:37)
8. Oedipus Context (5:31)
Quelle Bild: Godz Ov War Productions
Ähnliche Artikel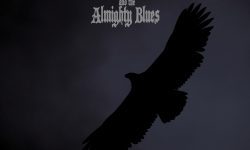 2015 erschien das sebstbetitelte Debüt der Norweger, 2017 legten sie mit "II" nach und nun wurden alle Trademarks der ersten
Weiterlesen