HOPELEZZ (DE) – Stories Of A War Long Forgotten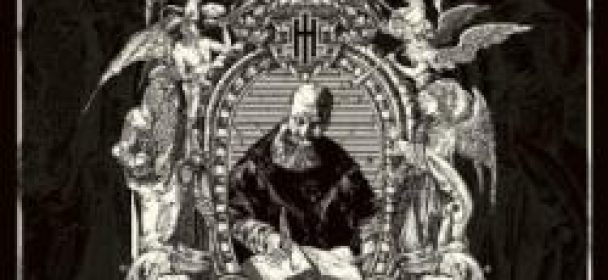 Aus Nordrhein-Westfalen flatterte mir das 3. Album von Hopelezz ein, einer Band die sich dem Modern Thrash Metal gewidmet hat. "Stories Of A War Long Forgotten" ist ein Konzeptalbum und von der Machart als durchaus gelungen zu bezeichen, zumindest musikalisch zu 100%! Aber warum deutschsprachige Texte? Ok, sie sind nicht die ersten, aber auch nicht die letzten, denen das das nur semi-gelungen ist. Leider sind diese sehr platt ausgefallen und man hätte sich doch eher an englischsprachgen Lyrics halten sollen, denn das reißt jedes Mal eine Art Wunde auf, das passt einfach nicht ins Gesamtbild des Album, welches man durchaus mit der Schulnote 2+ bewerten kann. Gut durchdachte Kompositionen, die das Konzept aufrecht erhalten und unterstützen, sowie die passende Produktion, runden das Bild von "Stories Of A War Long Forgotten" ziemlich perfekt ab.
Fazit: Ein erfrischendes Album, welches mit Modern Metal / Modern Thrash Metal Momenten aufwarten kann, die man eher von Machine Head, Trivium aber auch von Death Angel erwartet, und sich einen Platz in meiner Playlist erspielen konnte. Aber über deutsche Texte sollte man zukünftig 2x nachdenken…Was auch zu erwähnen ist: die Songs funktionieren auch einzeln, nicht nur im Sinn des Konzeptgeflecht! Warum ausgerechnet Bonnie Tylers "Holding Out For A Hero" gecovert wurde (Abwechslungsreichtum kann man auch anders zeigen, anstatt mit einer durch und durch todgenudelten Nummer), ist Geheimnis der Band. Klingt definitiv nicht überflüssig, aber ein eigener neuer Song (oder wenigstens eine noch nicht durchgenudelte Nummer), wäre mir bedeutend lieber gewesen. Aber wer versteht schon Musiker… Unbedingt anchecken!!!
Tracklist:
1. Ich Bin Krieg (Intro)
2. War Against War
3. The Beast
4. The Only Way
5. War Long Forgotten
6. Let Their Cities Burn
7. Through Hell
8. What You Deserve
9. A Prayer For Better Days
10. This Must Not Be The End
11. Holding Out For A Hero (Bonnie Tyler Cover)
12. Vom Letzten Tag
Line-Up:
Adrian Vorgerd – Vocals, Guitars
Dennis Ehlen – Guitars
Marcel Krüger — Bass
Nik Gaidel – Drums
VÖ: 24-08-2018
Label: Massacre Records
Spielzeit: 51:54 Min.
Herkunft: Deutschland
Genre: Modern Metal, Modern Thrash Metal
Internet:
FB – https://www.facebook.com/hopelezzmetal/
Youtube:
Ähnliche Artikel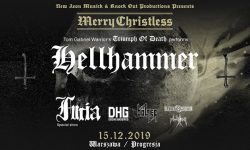 Dieses Jahr findet das von Behemoth präsentzierte Festival MERRY CHRISTLESS in nur einer Stadt statt und zwar in Warschau, Progresja
Weiterlesen