Hammerfall (S) – Legacy Of Kings 20 Year Anniversary Edition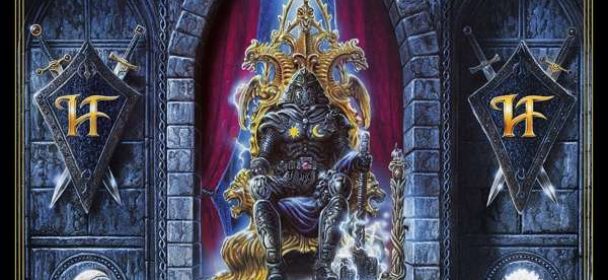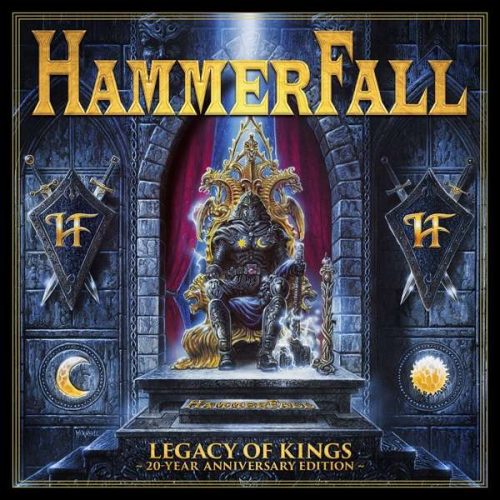 Als die Schweden 1997 ihr Debütalbum "Glory To The Brave" veröffentlichten, geschah das in einer Zeit als Heavy Metal schon lange als totgesagt galt. Der Grunge hatte den ganzen überzogenen Glamour der L.A.-Szene und die Klischees des Metal den Lokus runtergespült. Doch besagtes Album löste einen neuen Boom aus und von heute auf morgen galt der Metal wieder etwas in Europa. Der Nachfolger "Legacy Of Kings" klang dann schon ein wenig erwachsener und man merkte der Band an, dass sie sich innerhalb kurzer Zeit vor allem technisch weiterentwickeln konnte. Waren die Songs auf dem Debüt noch stark an Helloween angelehnt, entwickelte die Band hier nun einen ziemlich eigenständigen Sound, der zwar immer noch Anleihen bei den Kürbisköpfen nimmt, sich aber ansonsten in Richtung Autobahn begibt. Die Songs sind noch eingängiger, spielen noch mehr mit den üblichen und verruchten Klischees des Metals, knallen dafür aber deutlich mehr aus den Boxen.
Nun feiert dieses Album also seinen zwanzigsten Geburtstag. Da will man als Plattenfirma doch gerne gartulieren und hat sich dafür etwas besonderes einfallen lassen, wie auch schon im letzten Jahr mit dem Vorgänger passiert. Haufenweise Bonus Tracks, gleich eine ganze CD voll mit Demos und und Liveaufnahmen bereichern das Album, das heute wie damals nichts von seiner Intensität verloren hat. Noch immer kann man sich an Songs wie "Let The Hammer Fall" und "Heading The Call" erfreuen, noch immer erklingen die Coversongs "Back To Back" (Pretty Maids), "Eternal Dark" (Picture) "I Want Out" (Helloween) und "Man On The Silver Mountain" (Rainbow) und zeigen die musikalischen Helden von Hammerfall. Besonderes Augenmerk sollte man dann aber schließlich auf die DVD legen, denn die beinhaltet neben ordentlich Livematerial auch Interviews der Band, in denen sie sich an den Entstehungsprozess erinnert. Alles in allem eine runde Sache, die dem Album mehr als gerecht wird.
Fazit: Immer noch geil.
CD 1:
Heeding The Call 4:29
Legacy Of Kings 4:13
Let The Hammer Fall 4:16
Dreamland 5:41
Remember Yesterday 5:04
At The End Of The Rainbow 4:05
Back To Back 3:38
Stronger Than All 4:28
Warriors Of Faith 4:44
The Fallen One 4:22
CD 2:
Eternal Dark 3:07
I Want Out 4:37
Man On The Silver Mountain 3:25
Legacy Of Kings (Live Medley 2018) 4:30
Heeding The Call (live) 4:55
Let The Hammer Fall (Live 2017) 6:53
Legacy Of Kings (live) 4:47
At The End Of The Rainbow (live) 4:19
Stronger Than All (live) 4:31
Heeding The Call (demo) 5:16
Let The Hammer Fall (demo) 4:16
Warriors Of Faith (demo) 5:10
Back To Back (demo) 3:43
At The End Of The Rainbow (demo) 4:00
Dreamland (demo) 5:59
DVD (Bonus)
01. Legacy Of Kings – Interview 2018
HammerFall – Live at Park Avenue, Jan. 19th 1999, Shure Endorsement Party
02. Heeding The Call
03. The Metal Age
04. Let The Hammer Fall
05. Steel Meets Steel
06. Breaking The Law (Judas Priest cover)
07. Shure Endorsement Ceremony
From "The First Crusade"
08. Listening Session
09. German TV Advertisement
10. Releaseparty for Legacy of Kings
11. Head Over Heels (Accept cover)
12. Balls To The Wall (Accept cover)
13. Breaking The Law (Judas Priest cover)
14. Outtakes And Sign Off
From "The Templar Renegade Crusades"
15. I Want Out (Video montage from Hansen Studios)
16. Unchained (Live in Switzerland)
17. Legacy Of Kings (Live in the U.S.A.)
18. Remember Yesterday (Live in Japan)
19. Warriors Of Faith (Live in Chile)
20. Let The Hammer Fall (Live in Sweden)
21. I Believe (Live in Sweden)
22. Breaking The Law (Video montage)
Label: Nuclear Blast
VÖ: 07.12.2018
Laufzeit: 114:28 Min.
Herkunft: Schweden
Stil: Heavy Metal
Webseite: https://www.hammerfall.net/
Facebook: https://de-de.facebook.com/hammerfall/
Ähnliche Artikel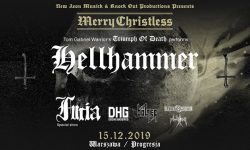 Dieses Jahr findet das von Behemoth präsentzierte Festival MERRY CHRISTLESS in nur einer Stadt statt und zwar in Warschau, Progresja
Weiterlesen