DEAD CITY RUINS (AUS) – Never Say Die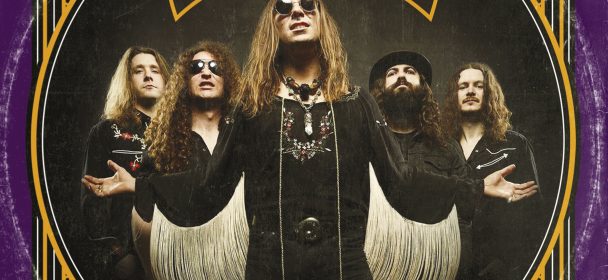 Eine Rockband aus Australien, die mal nicht versucht nach AC/DC, Rose Tattoo oder nach all´den anderen Känguru-Pubbands zu klingen, die hier Stadien füllen? Das gefällt mir und ist sympatisch, bringt gleich 3 Punkte mehr auf die Skala. Was mir noch gefällt? Dieses Album ist ein Bastard aus so ziemlich allen Subgenre, die der Rock bietet. Ein bißchen Retro? Gern… Ein bißchen Southern? Kein Problem… Classic Rock? Logisch… Bluesiger Hard Rock? Na ohne, geht es bei Australiern dann wohl doch nicht! Und so geht es die ganze Palette weiter, wenn man versucht, die Musik von Dead City Ruins zu beschreiben. Black Sabbath meets Jet meets Wolfmother meets Thin Lizzy meets Led Zeppelin meets Airbourne + die Freiheit, so viel wie möglich tun und lassen zu können, was man will. Genau so klingt "Never Say Die"!
Fazit: Trotz des Abwechslungsreichtum, klingt das 3. Album der Australier geerdet, geordnet, nicht wirr und konzeptlos sondern stimmig und genau so gewollt. Ein bunter Strauss Rock´n´Roll, an dem man unbedingt schnuppern muss! Einziges Manko: nach knapp einer halben Stunde ist Ende und man fragt sich: warum denn jetzt schon?
Tracklist:
01 Devil Man
02 Bones
03 Dirty Water
04 Rust And Ruin
05 The River Song
06 We Are One
07 Destroyer
08 Raise Your Hands
09 Lake Of Fire
Line-Up:
Jake Wiffen – Vocals
Tommy Cain – Guitars
Sean Blanchard – Guitars
Matthew Berg – Bass
Nick Trajanovski – Drums
VÖ: 13-04-2018
Label: AFM Records
Spielzeit: 31:42 Min.
Herkunft: Australien
Genre: Rock, Hard Rock, Blues Rock, Southern Rock, Classic Rock, Rock´n´Roll
Internet:
FB – https://www.facebook.com/deadcityruins/
HP – http://onepagelink.com/deadcityruins/
Youtube:
Ähnliche Artikel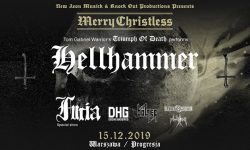 Dieses Jahr findet das von Behemoth präsentzierte Festival MERRY CHRISTLESS in nur einer Stadt statt und zwar in Warschau, Progresja
Weiterlesen