DARK MILLENIUM (DE) – Where Oceans Collide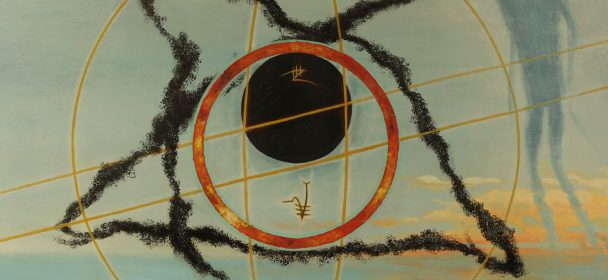 Ganz ehrlich: ich lese und höre von Dark Millenium aktuell zum 1. Mal. Sind mir eindeutig in den Anfangsneunzigern durch die Lappen gegangen. Es gab eine etwas längere Pause und 2016 feierte man mit dem Album "Midnight In The Void" Comeback. Nun liegt "Where Oceans Collide" vor mir und letztendlich bin ich mal recht froh, die Vorwerke nicht zu kennen um keine Vergleiche o.ä. ziehen zu können. Was auch immer die Band zuvor musikalisch getrieben hat, aktuell suhlt man sich im Dark Metal mit Tendenzen zum progressiven melodischen Death, gern mit beinahe epischen Soundmomenten ausgestattet. Ganz leicht erinnert mich das superbe Hörerlebnis an die besseren Alben von Tiamat, Samael, Atrocity & Co. Das ist deutlich dem Gesang, aber auch den sphärischen Momenten zuzuschreiben.
Fazit: Dark Metal ist in dem Fall eigentlich nicht wirklich die Basis, ich würde "Where Oceans Collide" eher dem progressiv-melodischen Death Metal zuordnen, der aber mainstreamige Melodien und eine Art Soundtrack zu einem verbindet und somit ein modernes, abwechslungsreiches Album präsentiert. Es ist weder zu hart für Darkmetaller noch zu weich für Deathmetalheads. Dark Millenium ist für alle da! Für alle mit Geduld und Zeit denn für nebenbei ist das nix, aber es lohnt sich!
Tracklist:
01. Vampire's Empire
02. Lovers Die
03. Moving Light
04. Insubstantial
05. Nights, Eternal
06. Flesh Is Weak
07. The Lie Behind The Trust
08. Diseases Decease
09. Jessica's Grave
10. In Equilibrium
11. Across Oceans Of Souls
Line-Up:
Christian Mertens – Vocals
Hilton Theissen – Gitarren
Michael Burmann – Gitarren
Gerold Kukulenz – Bass, Keys
Andre Schaltenberg – Drums
VÖ: 24-08-2018
Label: Massacre Records
Spielzeit: 51:03 Min.
Herkunft: Deutschland
Genre: Dark Metal, Death Metal, Progressive
Internet:
FB – https://www.facebook.com/DarkMillenniumOfficial/
HP – https://www.darkmillennium.de/
Youtube:
Ähnliche Artikel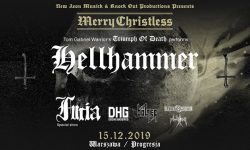 Dieses Jahr findet das von Behemoth präsentzierte Festival MERRY CHRISTLESS in nur einer Stadt statt und zwar in Warschau, Progresja
Weiterlesen