News: Prophecy Fest 2021 announce five new bands!!!
Dark, forward thinking music with an attitude in one of the world's most fascinating cultural locations, the legendary, natural Cave of Balve ("Balver Höhle") in the heart of Germany. Prophecy Productions proudly announce:

Prophecy Fest in the label's 25th anniversary year is announcing five more acts for the festival's three days and nights from Thursday, September 9 to Saturday, September 11: DEINE LAKAIEN have agreed to present a special treat – the German dark wave pioneers will present one of their legendary acoustic shows! NEGURĂ BUNGET co-founding member Hupogrammos and Sol Faur, guitar player since 1998, revive their first main band with a once in a lifetime performance. Supported by live musicians from DORDEDUH, the two original songwriters of the Romanian black metal icons will bring material from the first five albums to the cave. Hot German newcomers ST. MICHAEL FRONT have just signed to Auerbach Tonträger and will already deliver their fascinating dark pop mix to Balve. The addition of Italy's rarely appearing KLIMT 1918 will not just thrill connoisseurs of intelligent indie rock but also delight anybody else who loves melancholic music. And last but never least, German black metal outfit EÏS, formerly known as GEÏST will bring their unique take on darkness to the stage despite being on an official hiatus.

The following  bands have previously been confirmed for the billing: EMPYRIUM, DORNENREICH, DOOL, DORDEDUH, and SECRETS OF THE MOON.  
Prophecy Festival page: https://fest.prophecy.de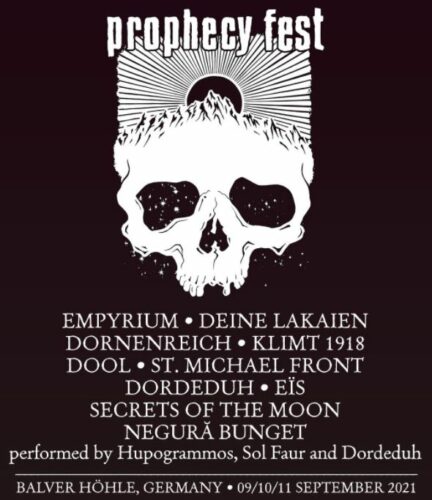 TICKET OPTIONS
3-day-pass incl. "Prophecy Productions 25" programme book – 99 Euro
A digital pass for a streaming version of the festival will also be made available in due time for those who prefer to stay at home or who have no other choice. We are still working on technical details.
3-day-passes can be booked via this link:
http://live.weltnetz.lu/en/titel/prophecy-fest-09-09-11-09-2021-balve-de/ 
EMPYRIUM
DOOL
DORNENREICH
DORDEDUH
DORDEDUH perform NEGURĂ BUNGET
SECRETS OF THE MOON
DEINE LAKAIEN
KLIMT 1918
EÏS
ST. MICHAEL FRONT
Quelle/Copyright: Prophecy Productions
Ähnliche Artikel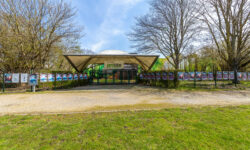 Seltsame Zeiten erfordern seltsame Maßnahmen. Unter diesem Banner stand die heutige Pressekonferenz von Hannover Concerts, die damit eine Aussicht auf
Weiterlesen