News: DAVE GROHL presents "PLAY"
Eine zweiteilige Mini-Dokumentation inkl. eines 23-minütigen Performance Pieces, geschrieben, aufgenommen und gespielt auf 7 Instrumenten von Dave Grohl.
website experience: http://smarturl.it/VisitPLAY
(Dokumentation, Performance Video, sowie einzelne Insturmente anwählbar)
watch on youtube: http://smarturl.it/PLAY_DG

Während die Foo Fighters sich weiterhin auf großer "Concrete And Gold"-Tour befinden und dabei (wie auf dem Wrigley Field in Chicago) regelmäßig mehrere zehntausend Zuschauer rocken, kündigt Dave Grohl ein noch nie dagewesenes neues Projekt an: die mit Abstand herausforderndste Performance seiner sagenhaften Karriere.
"PLAY" ist der Titel einer zweiteilige Mini-Dokumentation, bei der Grohl zusammen mit "Sound City"/"Sonic Highways"-Partner Mark Monroe Regie führte. Sie zeigt die Herausforderungen und den Lohn, die es mit sich bringt, wenn man sein Leben dem Erlernen und Beherrschen eines Musikinstruments widmet. Teil eins beginnt mit Behind-The-Scenes-Footage einer Diskussion über die Liebe zum Musizieren und der lebenslangen Beziehung mit einem Instrument, und zeigt detailliert den Prozess und Herausforderungen, die der audiovisuelle Mitschnitt der einzigartigen Perfomance mit sich bringt.
Der "PLAY"-Film zeigt dann die titelgebende, 23-minütige Ein-Mann-Band-Instrumentalaufnahme, bei der Grohl alle sieben Instrumente spielt. Das komplette Lied wurde von Grohl jeweils auf einem anderen Instrument 23 Minuten lang live eingespielt. Beginnend mit der Aufnahme des gesamten Schlagzeug-Tracks, rein aus dem Gedächtnis, ohne Noten- oder Guide-Tracks, gefolgt von Gitarre, dann Bass, dann Keyboards, und so weiter … Grohl hatte sich das Konzept der Ein-Mann-Band-Aufnahme-Session selbst auferlegt, bei dem er gezwungen war, den 23-minütigen Song beim geringsten Fehler wieder von vorne zu beginnen – oder wenn er das Gefühl hatte, einen besseren Take abliefern zu können. Die Ton-Aufnahmen entstanden unter der Regie von "Concrete And Gold"-Engineer Darrell Thorp.
Am 10. August erscheint "PLAY" digital, am 28. September als limitiertes Vinyl via Sony Music / RCA
Quelle: Head Of PR
Ähnliche Artikel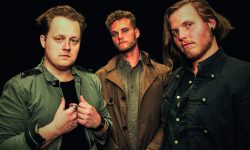 Nicht jede Band schafft es, eine Dekade ihres Bestehens zu feiern. Ein Grund mehr, ein musikalisches Feuerwerk zu entfachen und
Weiterlesen