HELION PRIME (USA) – Terror Of The Cybernetic Monster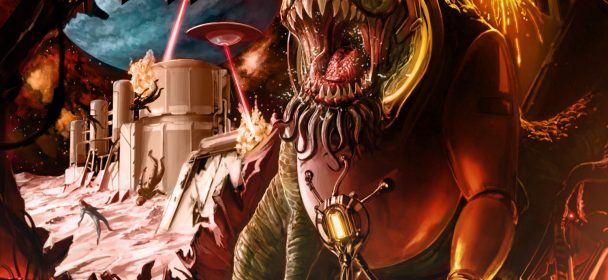 Helion Prime aus Sacramento / Kalifornien (unweit der Bay Area) liefern auf dem 2. Album hochklassigen Power Metal in der ganz groben Schnittmenge von Stratovarius und Co…aber nur grob, denn die Amis wissen sehr gut, den gut produzierten Songs ihren ganz eigenen Stempel aufzudrücken. Weniger mit progressiven Elementenkitsch ausgestattet, sondern eher der Epik zugewandt, wird meist in affenschnellen Songs abwechslungsreich dargeboten, was eher nach europäischen Power Metal klingt, inkl. der allseits beliebten hohen Stimmlagen, der sich durch´s Album zieht. Auch wenn der Titel einen roten Faden vermuten lässt, ich habe ihn nicht wirklich gefunden und so bleibt "Terror Of The Cybernetic Monster" ein seltsamer Titel für ein gar nicht mal so schlechtes Album.
Fazit: Hätte mir lieber von genau dieser Band, mit dem guten Songwriting, noch ein paar Nummern gewünscht, die sich im Mid-Tempo befinden. So erinnert mich das alles eher an einen Trip in die Vergangenheit, als speediger Power Metal zeitweise die Metalwelt dominierte, aber doch herzlich erfrischend klingt. Ich denke, wir werden noch einiges von Helion Prime hören, sehen, erleben…und das ist auch gut so!
Tracklist:
01 Failed Hypothesis
02 A King Is Born
03 Bury The Sun
04 Atlas Obscura
05 Urth
06 The Human Condition
07 Spectrum
08 Silent Skies
09 Terror Of The Cybernetic Space Monster
Line-Up:
Sozos Michael – Vocals
Jason Ashcraft – Guitar
Chad Anderson – Guitar
Jeremy Steinhouse – Bass
Alex Bosson – Drums
VÖ: 31.08.2018
Label: AFM Records
Spielzeit: 59:16 Min.
Herkunft: USA
Genre: Power Metal
Internet:
FB – https://www.facebook.com/helionprimemetal/
HP – https://helionprimemetal.com/
Youtube:
Ähnliche Artikel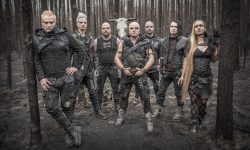 "Die Zeit ist nahe! Die Stunde der Offenbarung steht bevor! Vergesst die Theorien über Polsprung, Eiszeit und Asteroideneinschläge und macht
Weiterlesen