DRAGONLORD (USA) – Dominion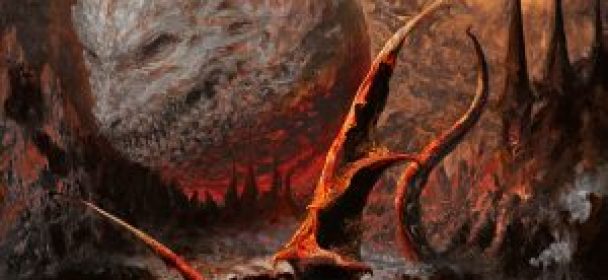 Der Zukunft ungewiss entgegenblickend, hob Testament-Gitarrist Eric Peterson zu jener Zeit, mit Kollegen das Projekt Dragonlord aus der Taufe und fröhnte bereits auf dem Erstling den Sounds der großen Black & Death Metalbands. Nun ist es wieder mal soweit, und mit "Dominion" hat der Ami mit alten und neuen Kollegen, wieder ein ordentliches Brett aus dem schwarzen Todesmetallbereich geschmiedet, welches man entweder liebt, weil: sich selten Death und Black Metal so schön vereinen und man diesen angeblich so "truen" Sound verehrt; oder eher an der Belanglosigkeit vorbeiziehen lässt, weil: es einfach nur nach einer Children Of Bodom / Dimmu Borgir Fanband klingt, die grade im Keller ihr erstes Demo fertig zusammengezimmert hat.
Fazit: Persönlich muss ich sagen , dass mir die Kompositionen schon sehr gut gefallen und mich die Nähe zu den sogenannten Originalen wenig stört, solange es gut arrangiert klingt, und nicht unbedingt wie eine Collage aus den Diskografien beider Bands in meinem heiligen Hörkanal andockt. Das ist auch hier nicht der Fall. Andererseits muss ich aber auch gestehen, dass ich mit dem Sound nicht wirklich warm werde. Liegt das nun mal wieder an dem verdammten MP3 Format? Es ist schade, dass man als Reviewer / Rezensent immer wieder vor diese Frage gestellt wird…Zu empfehlen ist das Alben allen Freunden des Todes / Black Metal, denn eine reine Fanband, sind Dragonlord keinesfalls. Das ist ein potenzielles Schwelgen in guten Zeiten, erwartet auf keinen Fall ein Novum!
Tracklist:
01. Entrance
02. Dominion
03. Ominous Premonition
04. Lamia
05. Love Of The Damned
06. Northlanders
07. The Discord Of Melkor
08. Serpents Of Fire
Line-Up:
Lyle Livingston – Keybords, Piano, Orchestration
Eric Peterson (Testament) – Guitars, Bass, Vocals
Alex Bent (Trivium) – Drums
Female Vocals: Leah McHenry
VÖ: 21-09-2018
Label: Spinefarm Records
Spielzeit: 44:28 Min.
Herkunft: USA
Genre: Black Metal, Death Metal
Internet:
FB – https://www.facebook.com/enterthedragonlord/
Ähnliche Artikel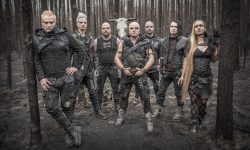 "Die Zeit ist nahe! Die Stunde der Offenbarung steht bevor! Vergesst die Theorien über Polsprung, Eiszeit und Asteroideneinschläge und macht
Weiterlesen