RESIST THE OCEAN – Touren ein Pentagramm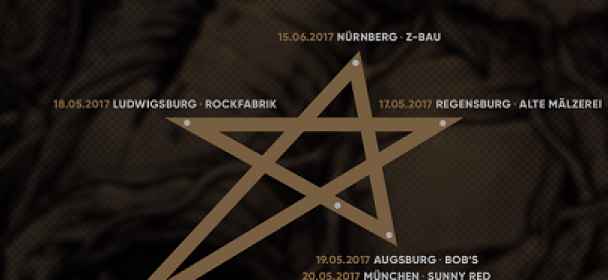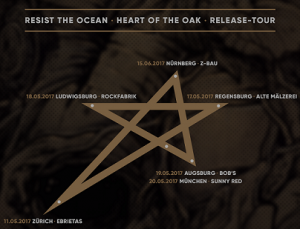 RESIST THE OCEAN – Touren ein Pentagramm – Routing ihrer Releasetour im Mai ergibt ein Pentagramm – Debütalbum der Rockavaria–Bandcontestsieger erscheint am 28. April !
 Die Idee ist ebenso abgefahren wie durchgestylt: im Rahmen ihrer Album-Releasetour – das Debüt "Heart Of The Oak" erscheint am 28.4. Via BleedingNoseRecords/Soulfood Music – fahren RESIST THE OCEAN in Pentagramm-Form durchs Land! Das Routing der Konzerte ergibt, wenn man Termine und Konzertstädte auf der Landkarte nachzeichnet, exakt das berühmt-berüchtigte Fünfeck, um das sich in der Metal-Szene so viel dreht.
Mit von der Partie werden bei besagter Pentagramm-Tour die Italiener von CRY EXCESS sein. Die Band, die bereits mit Legenden wir Korn, Papa Roach oder Walls Of Jericho die Bühne geteilt hat, veröffentlicht am 24. März ihr drittes Album "Vision" und drängelt sich damit im umkämpften Metalcore-Genre weiter nach vorn.
Support von Ektomorf:
12.04. Nürnberg, Hirsch
13.04. Budweis (CZ)
14.04. Hodonin (CZ)
Release-Tour, Special Guest Cry Excess:
11.05. Zürich (CH), Ebrietas
17.05. Regensburg, Alte Mälzerei
18.05. Ludwigsburg, Rockfabrik
19.05. Augbsurg, Bob's
20.05. München, Sunny Red
15.06. Nürnberg, Z-Bau
Festivals:
07.07. Nordheim, Sunstorm Open Air
02.09. Wallesau bei Roth, Wallesau Ist Blau
Quelle: @rosenheim-rocks.de
Ähnliche Artikel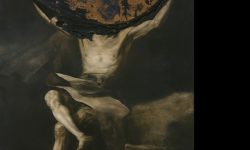 Nachdem sie die Welt mit der Veröffentlichung ihres fesselndsten Album "I Loved You At Your Darkest" für einen Moment in
Weiterlesen