News: THEM veröffentlichen heute die erste Single und Lyrik Video!
Die Deutsch/Amerikanische Power/Thrash Metal Band THEM veröffentlicht heute mit "Witchfinder" die erste Single und das dazugehörige Lyrik Video aus dem kommenden Album "Manor Of The Se7en Gables".
https://www.youtube.com/watch?v=n6CjVnw1fuI&feature=youtu.be
Manor Of The Se7en Gables" erscheint über SPV/Steamhammer am 26. Oktober 2018 als CD DigiPak, 2LP Gatefold, Download und Stream.
Quelle: SPV.de
Ähnliche Artikel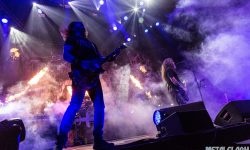 ...a new hard rock/thrash metal clue… https://www.youtube.com/watch?v=xlC9c1zDOxs&feature=youtu.be Quelle: NuclearBlast
Weiterlesen