News: ROCKHARZ Open Air 2019: Die Tagesaufteilung der Bands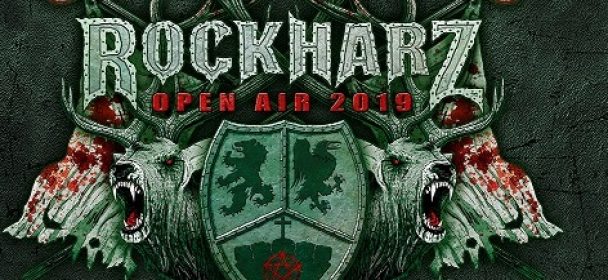 Das ROCKHARZ Open Air hat die Tagesaufteilung der Bands für den Juli 2019 bekannt gegeben. Als grobe Orientierung für die Besucher gibt es jetzt schon eine Einsicht, welche Künstler an welchem Tag die Bühne im Juli entern werden. Außerdem sind ab sofort Tagestickets via CTS Eventim verfügbar. Die genaue Running Order mit allen Spielzeiten wird im Juni bekannt gegeben
Hier die Aufteilung pro Tag in alphabetischer Reihenfolge (Änderungen sind vorbehalten):
Mittwoch, 3.7.2019
BROTHERS OF METAL
COMBICHRIST
FROM NORTH
JBO
U.D.O.
VADER
Donnerstag, 4.7.2019
AMON AMARTH
BLOOD RED HOURGLASS
COPPELIUS
CRADLE OF FILTH
FEUERSCHWANZ
HÄMATOM
LACRIMAS PROFUNDERE
LORDI
NERVOSA
OVERKILL
STAM1NA
THE UNGUIDED
VAN CANTO
WINTERSUN
WITT
Freitag, 5.7.2019
CALIBAN
DIMMU BORGIR
DRAGONFORCE
ELVELLON
ELVENKING
HEIDEVOLK
HYPOCRISY
KISSIN' DYNAMITE
MILKING THE GOATM.
MR. IRISH BASTARD
NAILED TO OBSCURITY
OMNIUM GATHERUM
RUSSKAJA
SALTATIO MORTIS
SOILWORK
THE NIGHTFLIGHT ORCHESTRA
WARKINGS
Samstag, 6.7.2019
ANVIL
APOCALYPSE ORCHESTRA
BURNING WITCHES
CHILDREN OF BODOM
EPICA
FOLLOW THE CIPHER
FREEDOM CALL
GRAND MAGUS
GRAVE
HARDLINE
HELL BOULEVARD
KÄRBHOLZ
KORPIKLAANI
LEGION OF THE DAMNED
MONO INC.
THE O'REILLYS & THE PADDYHATS
VISIONS OF ATLANTIS
Festivaltickets inklusive Camping sind seit einiger Zeit ausverkauft.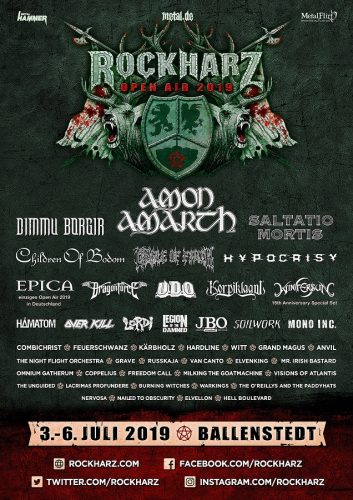 Das ROCKHARZ Open Air wird vom 03. – 06. Juli 2019 auf den Flugplatz Ballenstedt stattfinden.
Alle weiteren Infos findet ihr auf den folgenden Seiten:
Quelle: info@metal-promotions.de
Ähnliche Artikel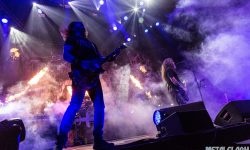 ...a new hard rock/thrash metal clue… https://www.youtube.com/watch?v=xlC9c1zDOxs&feature=youtu.be Quelle: NuclearBlast
Weiterlesen