News: Prophecy Fest 2019 – final additions: David Thiérrée, Bethlehem – Sept. 13th & 14th – Balver Höhle, Balve
News: Prophecy Fest 2019 – final additions: David Thiérrée, Bethlehem – Sept. 13th & 14th – Balver Höhle, Balve
Arthur
PROPHECY FEST 2019
Sept. 13th & 14th – Balver Höhle, Balve, Germany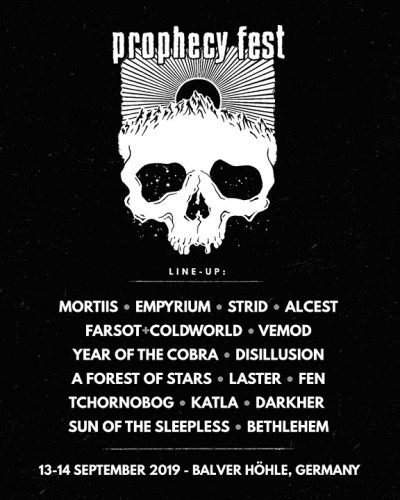 Prophecy are pleased to announce renowned painter and designer David Thiérrée (Behemoth, Primordial et al.) as this year's artist in residence! He will exhibit some of his work in Balve and has created individual tableaus for each band.
Unfortunately, Khôrada had to cancel their performance at this year's edition "due to circumstances beyond our control," says the band. "We send our deepest apologies to the attendees and want to thank Prophecy for inviting us."
As luck would have it, German dark metal pioneers Bethlehem are going to grace us with one of their rare concerts in the wake of their recent full-length "Lebe dich leer," its songs full of shredding shrieks and howls in stark relief to atmospheric, gentler moments (Zero Tolerance) being a suitable backdrop for the Medieval cave of Balve
The full line-up for Prophecy Fest 2019 (running order still to be announced):
Katla (Iceland)
Alcest (France)
Mortiis (Norway)
Sun Of The Sleepless (Germany)
Darkher (UK)
Vemod (Norway)
Bethlehem (Germany
Strid (Norway)
Tchornobog (USA)
Empyrium (Germany)
Year Of The Cobra (USA)
Disillusion (Germany)
Coldworld (Germany)
Farsot (Germany)
A Forest Of Stars (UK)
Fen (UK)
Laster (Netherlands)
Prophecy Fest takes place in a natural cave formed in the Old Stone Age – Balver Höhle. According to Germanic Saga, the blacksmith Wieland constructed his workshop within its walls. The town of Balve is situated in the center of Germany between Dortmund, Cologne, Frankfurt and Hannover.
Info & tickets: https://fest.prophecy.de/
Quelle: Prophecy Productions
Ähnliche Artikel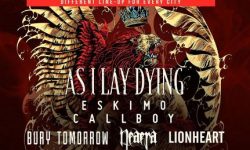 Aufgrund der Corona Krise werden die IMPERICON FESTIVALS, auf welchen As I Lay Dying als Headliner angekündigt wurden, vom April
Weiterlesen