News – Michael Romeo (Symphony X) Video Premiere zu "Djinn" – aus Soloalbum "War of the Worlds / Pt. 1"
News – Michael Romeo (Symphony X) Video Premiere zu "Djinn" – aus Soloalbum "War of the Worlds / Pt. 1"
Thorsten Jünemann
Michael Romeo (Symphony X) mit Video Premiere zu "Djinn" – aus dem Soloalbum "War of the Worlds / Pt. 1"/ VÖ 27. Juli!
Symphony X-Gitarrist Michael Romeo hat eine stark besetzte Studioband zusammengestellt und mit der Mascot Label Group einen schlagkräftigen Partner für sein erstes amtliches Soloalbum gefunden! "War of the Worlds / Pt. 1" erscheint am 27. Juli 2018 als CD, digital, sowie als Doppel-LP in schwerem 180-Gramm-Vinyl mit beigelegtem Download-Code auf dem Mascot-Label Music Theories Recordings.
Mit der Video Premiere zu "Djinn" zeigt Michael Romeo einmal mehr auf beeindruckende Weise, was für ein kreatives und krachendes Album ihm mit "War of the Worlds / Pt. 1" gelungen ist! Michael  sagt folgendes zu Djinn:"This is one of my favorite riffs on the album. The album title is 'War of the Worlds', but in this case, the 'Worlds' refers to the worlds of politics and religion."
Auf dem Album sind neben Romeo selbst Sänger Rick Castellano, Bassist John "JD" DeServio (Black Label Society) sowie John Macaluso (Yngwie Malmsteen, James LaBrie, Ark) am Schlagzeug zu hören. Aufgenommen und produziert hat Romeo das Album – wie bisher auch sämtliche Symphony X-Scheiben – während der letzten anderthalb Jahre in seinem Heimstudio in New Jersey im Alleingang. Die zehn darauf enthaltenen Stücke brillieren über weite Strecken mit wohlbekannten Symphony X-Trademarks, darüber hinaus warten sie jedoch auch mit der einen oder anderen gehörigen Überraschung auf. Romeo erklärt dazu: "Ich habe hier so ziemlich alles, was mich an Musik begeistert, in einen Topf geworfen." Und weiter: "Wenn sich jemand fragt, was dabei wohl in meinem Kopf vorgegangen sein mag, antworte ich: 'Kreativ bin ich gewesen, und dabei hatte ich eine richtig gute Zeit."
Eine weitere gute Nachricht folgt auf dem Fuße, Michael Romeo verspricht ein Sequel: "War of the Worlds / Pt. 2" hat er demnach bereits weitgehend im Kasten, es fehlen noch das Feintuning und ein Veröffentlichungstermin. Was diesen anbelangt, hält der Meister sich indes noch bedeckt. "Sollen die Leute doch erstmal Teil 1 verdauen", meint er mit einem Augenzwinkern.
Youtube:
Internet:
FB – https://www.facebook.com/MichaelJRomeo/
Ähnliche Artikel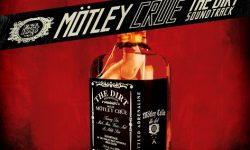 The world's most notorious rock band, Mötley Crüe announces the release of The Dirt Soundtrack that accompanies the upcoming
Weiterlesen