News: KILL THE LIGHTS – Share new video for song "Through The Night"
New Fearless Records signing Kill The Lights, which features former members of Bullet For My Valentine and Throw the Fight, have announced their debut album The Sinner. The record arrives August 21 on Fearless Records.
To celebrate the news, the band has shared the video for the new song "Through The Night," which premiered at Hot Topic.
Quelle/Copyright: Head of PR
Ähnliche Artikel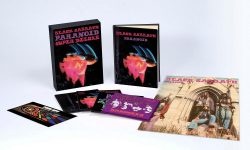 Auf 5 LPs wird das Original Album, der seltene Quad Mix und zwei ihrer 1970-er Konzerte, hier erstmalig auf Vinyl,
Weiterlesen