news: DYING VICTIMS ATTACK! Vol. 2 on 11 – 13 April 2024 in Essen
Dying Victims Productions together with DEAF FOREVER and metal.de proudly presents: DYING VICTIMS ATTACK! Vol. 2 on 11 – 13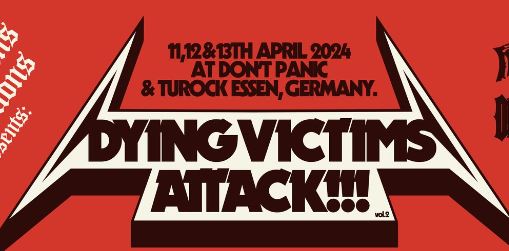 Dying Victims Productions together with DEAF FOREVER and metal.de proudly presents: 
DYING VICTIMS ATTACK! Vol. 2 on 11 – 13 April 2024.
The festival gathers 18 label bands from 12 countries in the heart of Essen, Germany.
Friday and Saturday will take place in Turock , the warm up show on Thursday with 4 associated acts will be in Don't Panic – next to each other.
Only 300 total maniac tickets 3 day tickets, plus additional friday&saturday tickets will be available.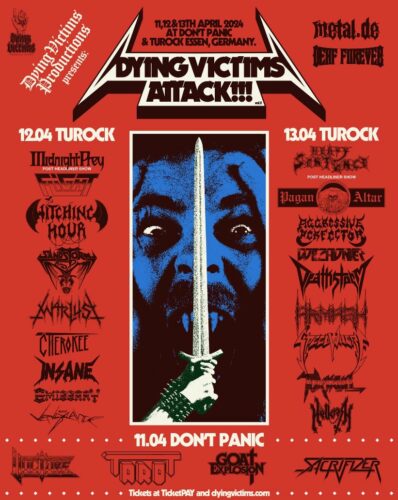 Line up Don't Panic:
Goat Explosion
Sacrifizer
Tarot
Vulture
Line-up Turock:
Aggressive Perfector
Armagh
Cherokee
Deathstorm
Emissary
Flight
Heavy Sentence
Hellcrash
INSANE
Midnight Prey
Pagan Altar
Sandstorm
SPEEDWHORE
Toxikull
Vengeance
Warlust
Witching Hour
Witchunter
Tickets: https://shop.ticketpay.de/9VJ2EQIJ
Quelle & ©: @dying-victims.de//https://dyingvictims.com/index.php