news: CULTHE FEST am 8. und 9. April 2023 in Münster mit u.a. THE RUINS OF BEVERAST, Ultha, WOLVENNEST, deathrite, FVNERALS, The Devil´s Trade, SUN OF THE SLEEPLESS…
Das CULTHE FEST findet dieses Jahr am 08. und 09.04. statt, natürlich in der Sputnikhalle in Münster. Line-Up ist wie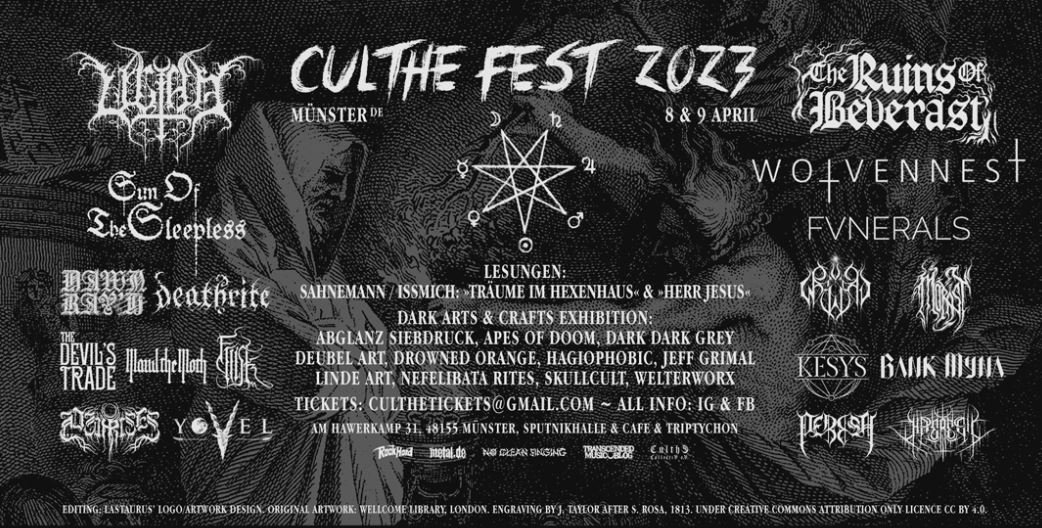 Das CULTHE FEST findet dieses Jahr am 08. und 09.04. statt, natürlich in der Sputnikhalle in Münster. 
Line-Up ist wie folgt bestätigt: 
am 08.04.:
ULTHA, SUN OF THE SLEEPLESS, DEATHRITE, THE DEVIL'S TRADE, DAWN RAY'D, MAUD THE MOTH, FRIISK, NO SUN RISES, YOVEL
am 09.04.:
THE RUINS OF BEVERAST, WOLVENNEST, FVNERALS, SUN WORSHIP, MORAST, KESYS, BANK MYNA, PERISH, HÆRESIS.
Nebenprogramm:
MORBIDE LESUNGEN MIT MUSIKALISCHER BEGLEITUNG
SAHNEMANN (Total Negation, Nachts, Absolutum u.a.) liest »TRÄUME IM HEXENHAUS« von H.P. LOVECRAFT (8. April) und die makabere Ostergeschichte »HERR JESUS« aus eigener Feder (9. April).
Das Akustik-Ensemble ISSMICH wird beide Geschichten mit düsteren und unheimlichen Kompositionen auf Cello und Saxophon begleiten.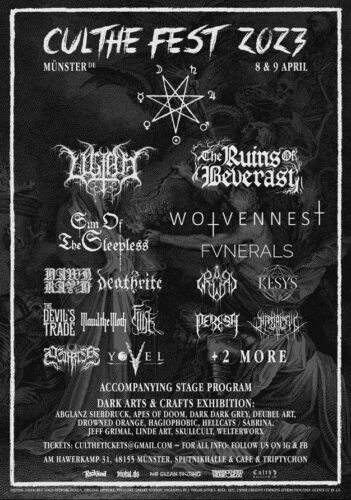 Quelle & ©: Unaussprechliche Culthe//Authentic Dark Art