Neil Diamond (USA) – Hot August Night III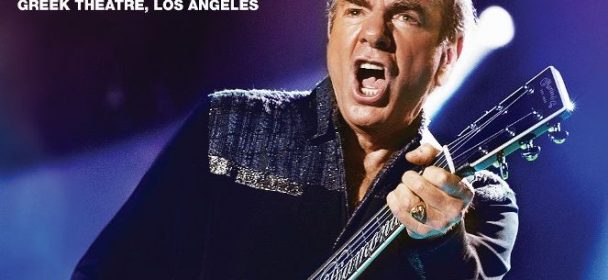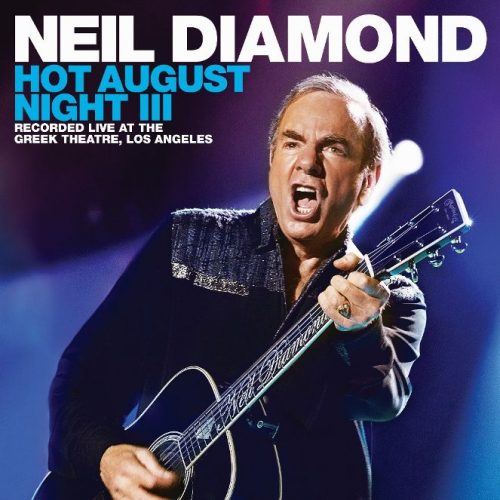 Großes amerikanisches Kino. Das ist der erste Begriff, der mir zu dem neuen Live-Album der lebenden Legende in den Sinn kommt. Vor fast genau 6 Jahren hat der Mann mit der unvergleichlichen Stimme erneut vor heimischer Kulisse im Greek Theatre in Los Angeles ein buntes Potpourri seiner größten Hits zum Besten gegeben. Zugleich war es das 40-jährige Jubiläum seines erfolgreichsten Live-Albums, das am 24. August 1972 in eben jenem großartigen Livetempel mitgeschnitten wurde.
Diamond, zum Zeitpunkt der Aufzeichnung stolze 71 Jahre, lieferte hier erneut eine Glanzleistung ab und lieferte über 140 Minuten gnadenlos gut ab. Dass einige Songs inzwischen einen leichten Las Vegas Touch erhalten haben, mag an der amerikanischen Liebe zu dick aufgetragenen Shows liegen, bildet aber die Songs einzigartig ab. Die Livequalitäten des Entertainers Diamond kommen hier erneut zur Geltung und beweisen, warum er stets zu den Besten seiner Zunft gehörte. Überraschend dabei ist, dass er es noch immer versteht mit fester Stimme seinen Songs frisches Leben einzuhauchen. In seinen Songs spiegelt sich seine Liebe zur Musik und vor allem zur Bühne wider, hat es den Grammy Gewinner doch im Laufe seiner Karriere immer wieder vor allem auf die Bühne gezogen. Als Mitglied der Rock And Roll Hall Of Fame hat er es in den mehr als fünfzig Jahren auf mehr als 130 Millionen verkaufte Alben gebracht, wobei es 40 Gold-, 21 Platin- und 11 Multiplatinauszeichnungen gab. Unzählige Hits hat er geschrieben und die größten Hits im August 2012 einem frenetischen Publikum präsentiert.
"Hot August Night III" erscheint als 2 CD + DVD, 2 CD + Blu-ray, Doppel-CD und Download.
Fazit: Einer der besten Entertainer mit einer mitreißenden Performance.
CD 1:
Overture
Soolaimon
Beautiful Noise
Forever in Blue Jeans
Love On The Rocks
Hello Again
September Morn
Play Me
Shilo
Red, Red Wine
You Got To Me
Girl, You'll Be A Woman Soon
Thank The Lord For The Night Time
Cherry, Cherry
Kentucky Woman
Solitary Man
Glory Road
Chelsea Morning
I'm A Believer
Happy Birthday Rose
Cracklin' Rosie
CD 2:
And The Grass Won't Pay No Mind
Pretty Amazing Grace
We
Stones
You Don't Bring Me Flowers
Holly Holy
Morningside
Crunchy Granola Suite
Sweet Caroline
Sweet Caroline – Reprise
I Am…I Said
Walk Off
America
Brother Love's Travelling Salvation Show
I've Been This Way Before
Walk Off
Band Bows
Audience Exit
Label: Universal Music
VÖ: 17.08.2018
Laufzeit: 142:12 Min.
Herkunft: USA
Stil: Pop / Rock
Webseite: http://www.neildiamond.com/
Ähnliche Artikel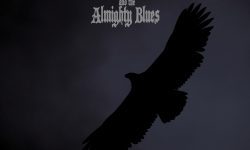 2015 erschien das sebstbetitelte Debüt der Norweger, 2017 legten sie mit "II" nach und nun wurden alle Trademarks der ersten
Weiterlesen