MOONREICH – "Fugue"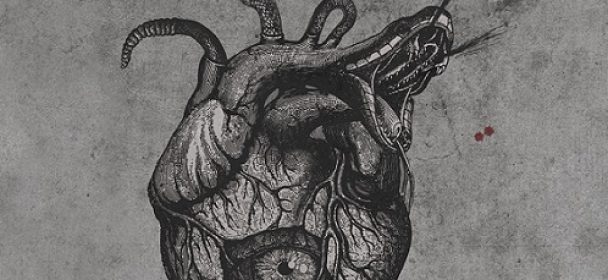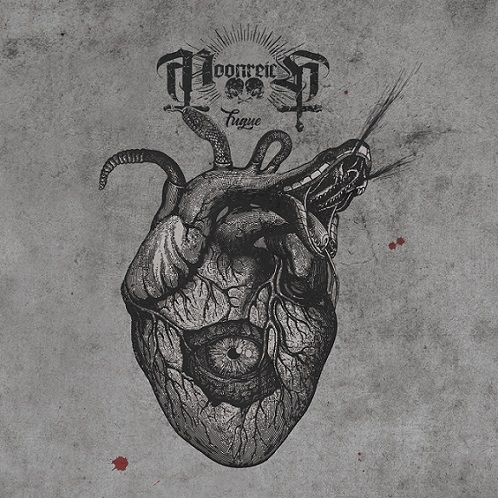 MOONREICH – "Fugue"
Label: Les Acteurs de l'Ombre Productions
Laufzeit: 53:55 min
VÖ: 15.06.2018
Genre: die perfekte Symbiose aus französischem Black Metal und wütendem Hardcore-Shouting
At the end there is an English translation.
MOONREICH kommen aus Frankreich – und wer ihr viertes Album "Fugue" hört, der wird das auch sofort ohne meinen Hinweis erkennen. Und das meine ich uneingeschränkt als Kompliment! Denn ihr Black Metal balanciert gekonnt auf dem scharfen Grat zwischen Orthodoxie und Einzigartigkeit, zwischen altbekannt Liebgewonnenem und erhofft Neugeborenem. Soll heißen: Ihre Musik ist bis zum schwarzen Rand gefüllt mit all den Ingredienzien, die wir erwarten, erhoffen, erlieben. Da gibt es Wut, Nihilismus, Hektik, Raserei, Dynamik, Gravität, Brutalität, Gebirge, Sturm, Flirren, Tod, Erwachen, Schleifstein, Melancholie, Flammensäulen, Schroffheit, Ewigkeit. Und – auch dies typisch für französischen Black Metal – auch MOONREICH gelingt scheinbar spielend leicht die Auflösung der Unvereinbarkeit von Polarität und Konformität. Das zeigt sich in den sieben zumeist langen Songs, die von wunderbaren Gegensätzen leben. Es herrscht eine intensive Dynamik zwischen ultraschneller Raserei und schwebender Reduktion in gemächliches dunkles Fließen ("Fugue, Pt. 2: Every Time the Earth Slips Away", "The Things Behind The Moon"). Das Schlagzeug macht unglaublich viel, peitscht oft unbarmherzig im Blastbeat voran, hektisch, unnachgiebig, jede noch so kleine Lücke mit Breaks ausfüllend, um dann wieder im Midtempo minimalistisch einen stoischen Groove zu zelebrieren ("Carry That Drought Cause I Have No Arms Anymore"). Die Gitarren mäandern zwischen schweren Riffs, die gemeinsam mit dem Bass meterdicke Mauern auftürmen, und weit darüber oszillierenden Gitarrenlinien, die melancholische Themen im Wechselspiel aus Dissonanz und Melodie in die Welt hinausklagen. Und dann kommt da eine Stimme! Das ist wütend, das ist angepisst, das ist grimmig, das ist bellen, beißen, spucken. Das ist Hardcore, in seiner besten Manier, das erinnert an herrlich fiese Truppen wie Terror, Nasty, First Blood oder Trapped Under Ice. Das ist im ersten Moment sehr ungewöhnlich, und ich brauchte einige Zeit, um mich daran zu gewöhnen, aber der Antagonismus aus dem rasenden Black Metal mit fein ziselierten Gitarrenleads und diesem breitbeinigen Aggro-Shouting ist so wunderbar wie wunderlich, so einzigartig wie mitreißend. Denn damit haben MOONREICH nicht nur ein – gerade heute im schier unerschöpflichen Ozean an Black Metal Bands geradazu überlebenswichtiges – Alleinstellungsmerkmal, sondern laden ihre Lieder zusätzlich mit Emotionen auf. Denn eines ist "Fugue", ein Werk voller Gewalt, Aggression, aber auch Hoffnung, kosmischer Weite, Dunkelheit und Niedergang. Dazu passt ein kraftvoller, energetischer Sound, der all dem Luft gibt, die Massivität und Dichte der Musik aber gekonnt einfängt. Aufs Neue haben die großartigen Les Acteurs de l'Ombre Productions ihr Näschen für ebenso außergewöhnliche wie überragende Musik bewiesen. Und das alles gibt es dazu in einer wunderschönen und qualitativ erstklassigen Aufmachung.
Fazit: MOONREICH haben mit "Fugue" ein Album erschaffen, in dem sie Musik und Emotionen zu einem großen mitreißenden Ganzen erschaffen. Dieser brachiale Brocken Musik speist sich dabei ebenso außergewöhnlich wie unkonventionell und beeindruckend aus der Kopulation von französischem Black Metal und Hardcore-Shouting. Das ist so fordernd wie erfüllend, vor allem aber: Absolut gelungen und lohnenswert!
Genre: the perfect symbiosis of French Black Metal and furious hardcore shouting
MOONREICH come from France – and anyone who hears their fourth album "Fugue" will recognize that without my notice. And I mean this totally as a compliment! Because their Black Metal skilfully balances on the sharp line between orthodoxy and uniqueness, between the loved familiar and the hoped for newborn. Meaning, the music is filled to the brim with all the ingredients we expect, hope for, love. There is anger, nihilism, rush, rage, dynamics, gravity, brutality, mountains, storm, flurries, death, awakening, grindstone, melancholy, pillars of flame, ruggedness, eternity. And – also typical of French Black Metal – MOONREICH also succeeds in seemingly easily resolving the incompatibility of polarity and conformity. This is reflected in the seven mostly long songs that live on wonderful contrasts. There is an intense dynamic between ultrafast frenzy and floating reduction into leisurely dark flow ("Fugue, Pt.2: Every Time the Earth Slips Away", "The Things Behind The Moon"). The drums are incredibly heavy, whiping relentlessly in the blast beat, hectic, unyielding, filling in every little gap with breaks, and then they celebrate at mid-tempo minimalistic a stoic groove ("Carry That Drought Cause I Have No Arms Anymore").The guitars meander between heavy riffs, which pile up meter-thick walls together with the bass, and oscillating guitar lines that lament melancholy themes in the interplay of dissonance and melody out into the world. And then there comes a voice! That's angry, that's pissed off, that's grim, that's barking, biting, spitting. This is hardcore, in its best style, reminiscent of gorgeous nasty troops like Terror, Nasty, First Blood or Trapped Under Ice. This is very unusual at first, and it took me some time to get used to it, but the antagonism of the raging Black Metal with its finely curved guitarlines and this broad-legged aggro-shouting is as wonderful as it is strange, as unique as thrilling. For that reason, MOONREICH not only have a unique selling proposition – especially in today's inexhaustible ocean of black metal bands more than important – but also load their songs with emotions. Because one is "Fugue", a work full of violence, aggression, but also hope, cosmic vastness, darkness and decline. This fits a powerful, energetic sound that gives all the air, but the massiveness and density of the music skillfully captures. Again, the great Les Acteurs de l 'Ombre Productions have proved their noses for extraordinary as well as outstanding music. And all this is available in a beautiful and high-quality presentation.
Conclusion: MOONREICH have created an album with "Fugue", in which they create music and emotions into a big, thrilling whole. This brutal chunk of music feeds as extraordinary as it is unconventional and impressive from the copulation of French Black Metal and Hardcore sharing. This is as demanding as fulfilling, but above all: Absolutely successful and worthwhile!
Liederliste:
1. Fugue, Pt. 1: Every Time She Passes Away (6:58)
2. Fugue, Pt. 2: Every Time the Earth Slips Away (10:16)
3. With Open Throat for Way Too Long (7:29)
4. Heart Symbolism (5:27)
5. Rarefaction (7:09)
6. Carry That Drought Cause I Have No Arms Anymore (6:00)
7. The Things Behind the Moon (10:36)
Ähnliche Artikel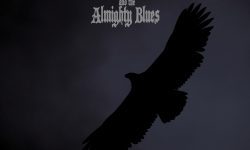 2015 erschien das sebstbetitelte Debüt der Norweger, 2017 legten sie mit "II" nach und nun wurden alle Trademarks der ersten
Weiterlesen