Caligula's Horse – Announce Headline 'In Contact' European Tour, An All-Aussie Invasion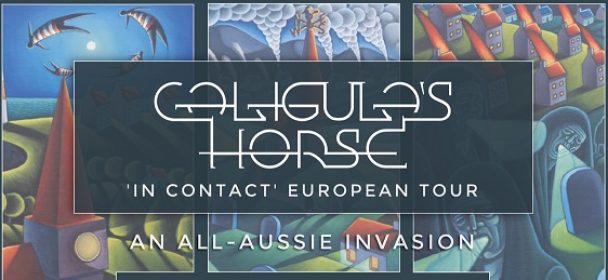 Caligula's Horse, a band at the forefront of Australia's progressive rock scene, released their acclaimed new album 'In Contact' in 2017, and now they are pleased to announce a full European headline run for October-November.
Joining them on tour will be fellow countrymen & progressive metal powerhouse Circles on their momentous return to Europe as main support, and instrumental guitar prodigy I Built The Sky (for their first European appearances). The run will also see Caligula's Horse make appearances at several festivals including Euroblast, ProgPower, Very Prog Festival and AMFest.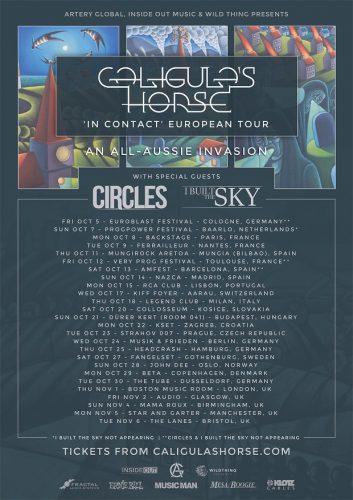 Friday October 5 – Euroblast Festival, Cologne, Germany**
Sunday October 7 – ProgPower Festival, Baarlo, Netherlands*
Monday October 8 – Backstage, Paris, France
Tuesday October 9 – Ferrailleur, Nantes, France
Thursday October 11 – Mungirock Aretoa, Mungia (Bilbao), Spain
Friday October 12 – Very Prog Festival, Toulouse, France**
Saturday October 13 – AMFest, Barcelona, Spain**
Sunday October 14 – Nazca, Madrid, Spain
Monday October 15 – RCA Club, Lisbon, Portugal
Wednesday October 17 – KiFF Foyer, Aarau, Switzerland
Thursday October 18 – Legend Club, Milan, Italy
Saturday October 20 – Collosseum, Kosice, Slovakia
Sunday October 21 – Dürer Kert (Room 041), Budapest, Hungary
Monday October 22 – KSET, Zagreb, Croatia
Tuesday October 23 – Strahov 007, Prague, Czech Republic
Wednesday October 24 – Musik & Frieden, Berlin, Germany
Thursday October 25 – Headcrash, Hamburg, Germany
Saturday October 27 – Fangelset, Gothenburg, Sweden
Sunday October 28 – John Dee, Oslo, Norway
Monday October 29 – BETA, Copenhagen, Denmark
Tuesday October 30 – The Tube, Dusseldorf, Germany
Thursday November 1 – Boston Music Room, London, UK
Friday November 2 – Audio, Glasgow, UK
Sunday November 4 – Mama Roux, Birmingham, UK
Monday November 5 – Star And Garter, Manchester, UK
Tuesday November 6 – The Lanes, Bristol, UK
*I Built The Sky Not Appearing
**Circles & I Built The Sky Not Appearing
Watch the video for the track 'Songs For No One', taken from the latest album 'In Contact', here:
Quelle. HeadOfPR
Ähnliche Artikel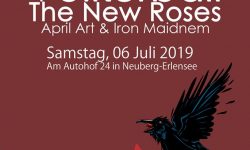 Am 06.07.2019 wird es laut und bunt auf dem Autohof 24 Neuberg - Erlensee. Bereits zum 2. Mal veranstaltet der
Weiterlesen