News: UNANIMATED – new album completed!
Swedish Blackened-Death-Metal force, UNANIMATED, just finished up their work on their 2018 follow up "Annihilation" (EP). This marks their first full-length album in over 10 years.
The album was again produced by Fredrik Folkare in his own Chrome Studios in Stockholm.
The 12-track album offers an atmospheric journey that promises everything you can expect from UNANIMATED.
This is the beginning of a new chapter for the band, which will skillfully follow the legendary albums "In the Forest of the Dreaming Dead" and "Ancient God of Evil".
The album is scheduled for December this year! More news along with new music will be presented very soon!
Quelle/Copyright: Head Of PR
Ähnliche Artikel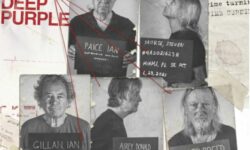 Nachdem Deep Purple die weltweite Rock Community mit der Ankündigung ihres neuen Albums "Turning To Crime" nur 15 Monate nach
Weiterlesen