News: SANCTUARY 'Into The Mirror Black 30th Anniversary' Tour 2021!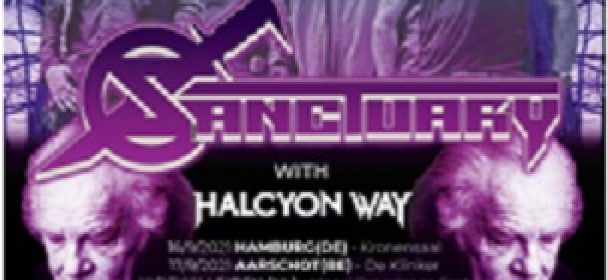 Die aus Seattle, Washington stammenden Metal-Veteranen SANCTUARY werden im Herbst 2021 nach Europa zurückkehren, um den 30. Jahrestag ihrer Klassiker-Platte 'Into The Mirror Black' (1990) und deren überarbeitete Sonderausgabe zu feiern, die am 9. Oktober 2020 über Century Media Records erscheint.
Auch wenn die Pläne, dieses große Jubiläum 2020 mit dem aktuellen Sänger Joseph Michael (Witherfall) live zu feiern, aufgrund der Covid-19 Pandemie nicht in die Tat umgesetzt werden konnten, wird die Band 'Into The Mirror Black' auch im Jahr 2021 in seiner Gesamtheit spielen und das Jubiläum dieses großartigen Albums entsprechend feiern.
Support kommt von der in Atlanta, Georgia ansässigen Progressive Power Metal Band HALCYON WAY.
Into The Mirror Black 30th Anniversary Tour 2021
SANCTUARY
+ Support HALCYON WAY
16.09.2021 Hamburg, Kronensaal
17.09.2021 Aarschot (BE), De Klinker AARSCHOT De Klinker
18.09.2021 Leiden (NL), Metal Experience Fest
19.09.2021 Luzern (CH), Schüür
21.09.2021 Mannheim, 7er Club
22.09.2021 München, Backstage Halle
23.09.2021 Aschaffenburg, Colos-Saal
24.09.2021 Lünen, Lükaz
25.09.2021 Aalborg (DK) Studenterhuset
26.09.2021 Oslo (NO), Krøsset
28.09.2021 Helsinki (FI), On The Rocks
30.09.2021 Stockholm (SE), Slaktkyrkan
01.10.2021 Götheburg (SE), Valand
02.10.2021 Malmö (SE), Babel
03.10.2021 Oldenburg, MTS Record Store *** Special Record Store Show ***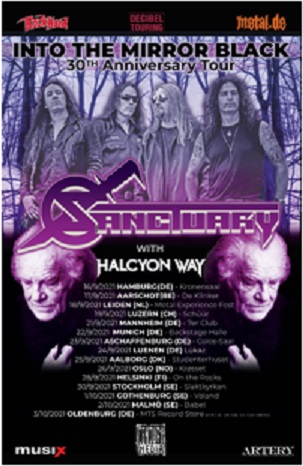 Quelle/Copyright: sailor-entertainment.de
Ähnliche Artikel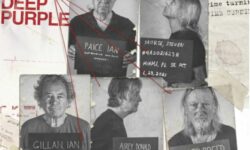 Nachdem Deep Purple die weltweite Rock Community mit der Ankündigung ihres neuen Albums "Turning To Crime" nur 15 Monate nach
Weiterlesen