News: Prophecy Fest 2022 announce free streaming and a new band
Oops, Prophecy Productions will do it again! Following the huge success of last year's streaming, which got rave comments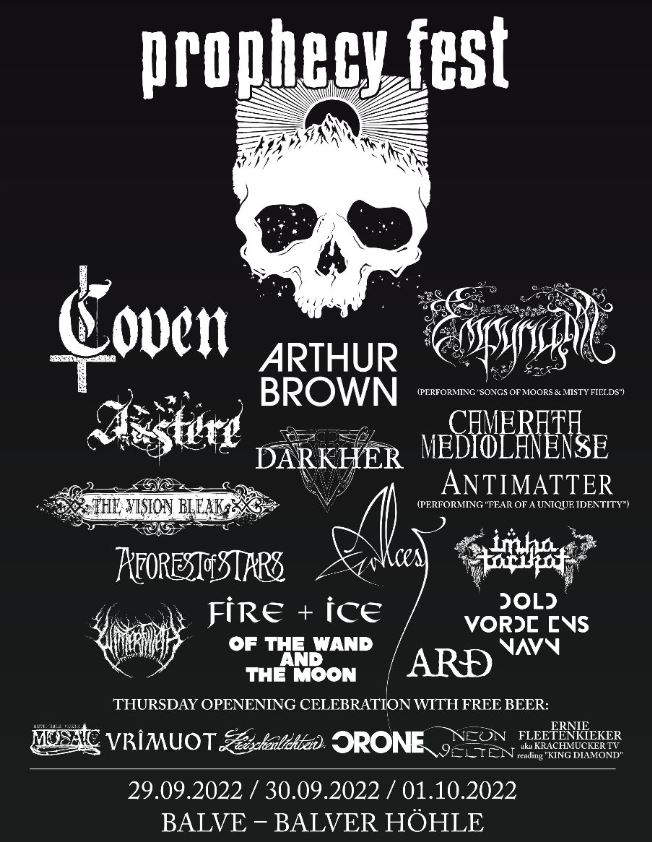 Oops, Prophecy Productions will do it again! Following the huge success of last year's streaming, which got rave comments from the audience at home, Prophecy Fest announce that they will also provide free online streaming this year, which will cover most of the indoor part of the festival. Streaming will start with the first band on Friday, September 30.
Prophecy Fest 2022 will again take place in one of the world's most fascinating cultural locations, the legendary natural Cave of Balve ("Balver Höhle") from Thursday, September 29 to Saturday, October 1.
The live stream will be filmed from multiple camera angles, edited and broadcast in real time. Festival streaming will be offered on various platforms including the Prophecy YouTube Channel  and Prophecy Facebook.  You can also access the streaming via this website: https://fest.prophecy.de.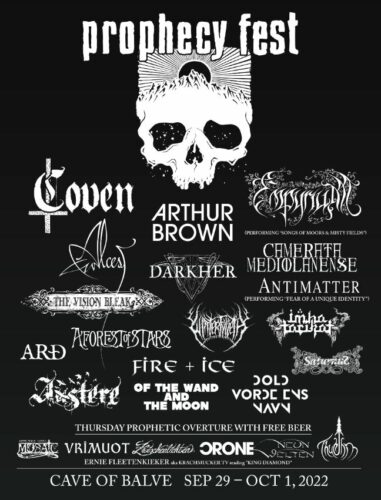 On further great news, Dutch atmospheric dark folk shooting stars THURNIN will join the proceedings of the "Prophetic Overture" on Thursday, September 29. This means that we will have to adjust the running order slightly and there might also be other minute changes.
The complete billing of Prophecy Fest 2022 (in alphabetical order):
ALCEST, ANTIMATTER, ARTHUR BROWN, ARÐ, AUSTERE, CAMERATA MEDIOLANENSE, COVEN, CRONE, DARKHER, DOLD VORDE ENS NAVN, EMPYRIUM (Songs of Moors & Misty Fields Show), FIRE + ICE, A FOREST OF STARS, IMHA TARIKAT, MOSAIC, NEUN WELTEN, OF THE WAND & THE MOON, SATURNUS, THE VISION BLEAK, THURNIN, VRÎMUOT, WINTERFYLLETH, and ZWISCHENLICHTEN.
Tickets: http://live.weltnetz.lu/prophecy-fest
Quelle/Copyright: Prophecy Productions