News: PAPA ROACH release heartfelt video message and fan-focused music video for mental health awareness track "COME AROUND"
News: PAPA ROACH release heartfelt video message and fan-focused music video for mental health awareness track "COME AROUND"
Arthur
PAPA ROACH share their "Come Around" music video, from their tenth studio album, Who Do You Trust?, shot in New York from their Who Do You Trust? U.S. tour, their largest headlining tour to date. WATCH/SHARE "Come Around" video HERE.
The video features footage from their August 11 performance in New York, NY, featuring longtime fan Mark Moreno, who has followed the band since 2000. It begins with Jacoby saying, "This music gives me a connection to something bigger than myself. This music connects me with people. This music gives me purpose."
Who Do You Trust? marks a paradigm career shift for the 26 year band. Singles "Who Do You Trust?" and "Elevate" have steadily remained in the Top 10 at Active Rock Radio, marking 14 Top 5 hits, and six #1 hit singles in their career.
Quelle. Head Of PR
Ähnliche Artikel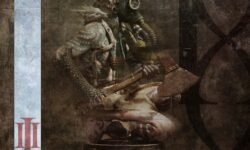 Vor wenigen Tagen erschien mit "3rd Degree- The Raising" der Abschluss der Albumtrilogie von Gemini Syndrome, den Alternative Metallern /
Weiterlesen