News: MERCURY CIRCLE (feat. members of SWALLOW THE SUN) premiere brand new music video
MERCURY CIRCLE, the brand new project by ICONCRASH's and SWALLOW THE SUN's, two times Finnish Grammy nominated Jaani Peuhu, will release their hotly anticipated debut on August 14th via Noble Demon and The Vinyl Division. Today the band from Helsinki, Finland, unleashed a first promising appetizer of what to expect from their upcoming EP, "The Dawn of Vitriol", with the premiere of a brand new music clip!
Dark metal infused with powerful synth/electro waves and doom – MERCURY CIRCLE is creating a diverse offering of atmospheric and darkly music where the songs differ wildly in expression and sonic aesthetics. Truly a genre of its own, grabbing the listener's attention while establishing their very own kind of "New Doom".
But listen for yourself and enjoy some top notch Finnish melancholy while watching the brand new cinematic and stirring music video for "The Beauty Of Agony", streaming here:
Quelle/Copyright: All-Noir
Ähnliche Artikel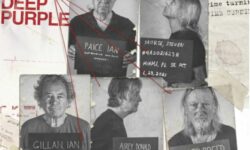 Nachdem Deep Purple die weltweite Rock Community mit der Ankündigung ihres neuen Albums "Turning To Crime" nur 15 Monate nach
Weiterlesen