News: KISS kündigen im Rahmen ihrer "End Of The Road World Tour" die Deutschlandkonzerte an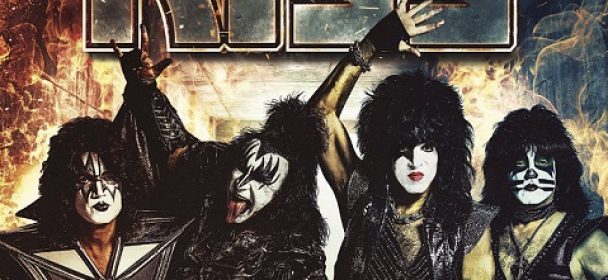 Nach einer legendären und geschichtsträchtigen 45-jährigen Karriere, die eine Ära von Rock'n'Roll-Ikonen einläutete, kündigte KISS an, dass die Band ihre allerletzte Tournee mit dem passenden Namen END OF THE ROAD 2019 antreten wird. Die erste Ankündigung, die vor einem Monat in der amerikanischen TV-Sendung America's Got Talent auf NBC erfolgte, löste einen Internetsturm durch erwartungsvolle Fans aus, die sich erhofften, in ihrer Stadt ein finales KISS-Konzert besuchen zu können. Die Band veröffentlichte heute die ersten Termine und Städte in Nordamerika und gleichzeitig auch ihre internationalen Auftritte. In Deutschland spielen KISS am 27. Mai 2019 in Leipzig im Messepark Neue Messe, am 31. Mai 2019 in München auf dem Königsplatz, am 2. Juni 2019 in Essen im Stadion Essen, am 4. Juni 2019 in Berlin in der Waldbühne, am 5. Juni 2019 in Hannover auf der Expo-Plaza und am 6. Juli 2019 in Iffezheim auf der Rennbahn.
Der Vorverkauf für den KISS-Army-Fanclub sowie KISS Meet & Greet Experience begann am Dienstag, dem 30. Oktober um 11.30 Uhr. Weitere Informationen gibt es auf www.kissonline.com.
Ab Donnerstag, dem 1. November 2018 – 10:00 Uhr, bieten die Ticketanbieter MyTicket und CTS Eventim Presales an. Der allgemeine Vorverkauf beginnt am Freitag, dem 2. November 2018, 10.00 Uhr. Tickets sind unter www.myticket.de sowie telefonisch unter 01806 – 777 111 (20 Ct./Anruf – Mobilfunkpreise max. 60 Ct./Anruf) und bei den bekannten Vorverkaufsstellen erhältlich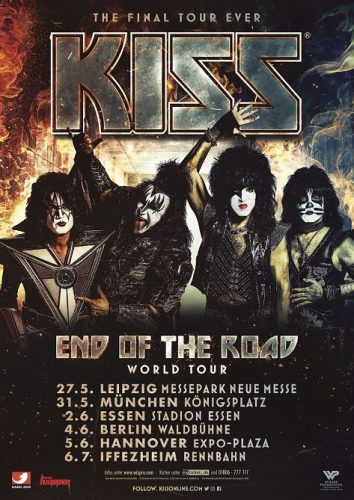 KISS  
End Of The Road – World Tour 2019
Mo     27.05.19       Leipzig / Messepark Neue Messe
Fr       31.05.19       München / Königsplatz
So       02.06.19       Essen / Stadion Essen
Di       04.06.19       Berlin            / Waldbühne
Mi      05.06.19       Hannover / Expo-Plaza
Do      06.07.19       Iffezheim / Rennbahn
Quelle: HeadOfPR
Ähnliche Artikel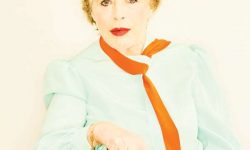 Während der Aufnahme von Marianne Faithfulls neuem Album sprach Nick Cave mit der Künsterin über ihr neues Album und ihr
Weiterlesen