News: HOLYGRAM Debüt-Album "Modern Cults" erscheint am 09.11.
Music for the lost: HOLYGRAM vereinen in ihrer Musik Postpunk und New Wave mit Krautrock- und Shoegaze-Elementen zu einer eigensinnigen, vielschichtigen und modernen Hommage an den Sound der 80er Jahre mit dezidiertem Blick in die Zukunft: treibend, düster und voller eingängiger Momente. Die unterschiedlichen Einflüsse der fünf Bandmitglieder, die sich 2015 in der vibrierenden Musiklandschaft Kölns zusammengefunden haben, sind unüberhörbar: New Order meets NEU!. Ihr unprätentiöser Umgang mit den eigenen Vorbildern ist der Beweis, dass der Blick in die Vergangenheit unweigerlich auch nach vorne gerichtet sein muss. Geschickt fügt sich bisher Unvereinbares zusammen, zum Soundtrack einer Stadt, die im Dämmerlicht bedrohlich wirkt
Hier setzt auch die erste Single "Signals" an, deren waviges Gewand über den emotional zerrissenen Text hinwegtäuscht und den zutiefst melancholischen Refrain ("Sometimes when I close my eyes I see you walk away / And everytime the sun comes up the feeling is the same") zur poppigen Hymne erhebt. Dabei wird deutlich, dass der Mensch in dieser Welt nur ein Zahnrad in einer größeren, sich verselbständigenden Maschine ist.
Die Band, die sich live stets in dichte Nebelschwaden und kühles Licht hüllt, hat auf zahlreichen Festivals wie etwa dem Mailfeld Derby, Wave-Gotik-Treffen oder New Waves Day gespielt sowie die britische Formation OMD auf ihrer EU-Tour 2017 begleitet. Ende des Jahres werden die Kölner bei einer ausgiebigen Support-Tour mit VNV Nation in Europa und Amerika das Debüt-Album Modern Cults live vorstellen
Album "Modern Cults"
(VÖ: 09.11.2018)
SPV/Oblivion/Cleopatra Records
Ab 14. November 2018 in Amerika und Europa auf Support-Tour mit VNV NATION
Quell AddOnMusic/SPV
Ähnliche Artikel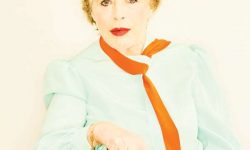 Während der Aufnahme von Marianne Faithfulls neuem Album sprach Nick Cave mit der Künsterin über ihr neues Album und ihr
Weiterlesen