News: Comics publisher DC invites RISE AGAINST to provide the lead track for its "Dark Nights: Death Metal" original soundtrack
News: Comics publisher DC invites RISE AGAINST to provide the lead track for its "Dark Nights: Death Metal" original soundtrack
Arthur
At the invitation of DC, multi-Gold and Platinum-selling punk rock stalwarts Rise Against will see its brand new song, "Broken Dreams, Inc." as the lead-off track on Dark Nights: Death Metal The Original Soundtrack, the companion to DC's recently launched, seven-issue comic book series, "Dark Nights: Death Metal." Executive produced by composer Tyler Bates ("Guardians of the Galaxy," the "John Wick" franchise, "Dawn of the Dead" reboot), who is also penning music for the score, the album's songs were written and performed by some of Rock and Metal's finest, all inspired by the comic series' storyline. "Broken Dreams, Inc." will be released this Wednesday, September 16 on Loma Vista Recordings, while the soundtrack's confirmed release date, complete artist line up, and full tracklisting will be announced shortly.



DC was premiering the "Dark Nights: Death Metal" soundtrack trailer at DC FanDome, a mega, 24-hour, immersive, self-guided, virtual experience with on-demand panels, presentations and reveals – think ComicCon, but all online and from the comfort of home. The premiere took place during the "Take a Tour of DC's Death Metal Metalverse" panel last weekend.
"Dark Nights: Death Metal" is the sequel to DC's wildly popular 2017-18 series "Dark Nights: Metal," that brought widespread changes to the DC universe and introduced fans to the Dark Multiverse, and a runaway-hit villain, the Batman Who Laughs. The series provides an encore for the original creative team consisting of writer Scott Snyder and artist Greg Capullo, along with inker Jonathan Glapion and colorist FCO Plascenia. Issues One, Two, and Three are available now at your local comics shop and digitally.
Album features some of rock & metal's finest artists and an all-star voice cast, kicking off with Rise Against's brand-new song, "Broken Dreams, Inc.":

https://www.youtube.com/watch?v=5gxyloCHWuo&feature=youtu.be
Quelle/Copyright: Head of PR
Ähnliche Artikel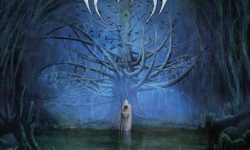 After the well-received EP "Into The Dark", the time has come for the long-awaited debut album "Silva - Oculis -
Weiterlesen