News: ABORTED, ENTOMBED A.D. and BAEST -"Hell Over Europe III" Tour in Oct./Nov. 2019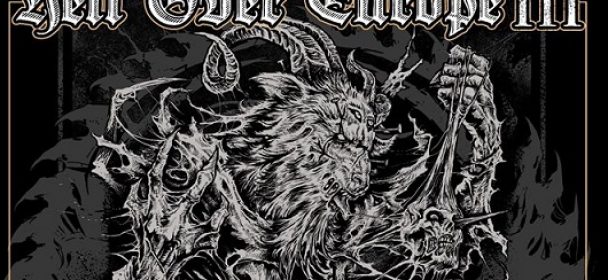 ABORTED are touring in support of their much-lauded latest album "TerrorVision" (2018) whereas ENTOMBED A.D. will be releasing a new record entitled "Bowels Of Earth" on August 30 th, and BAEST follow up with their second offering "Venenum" on September 13th!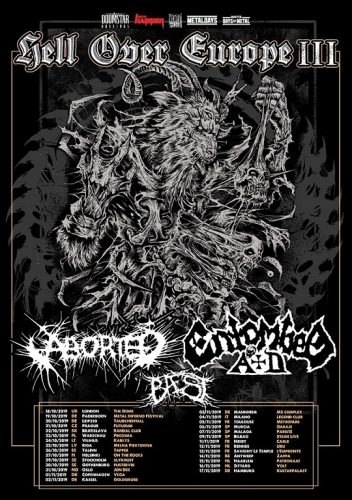 The "Hell Over Europe III" tour kicks off October 18th in London and wraps up November 17th in Hamburg. Tickets are on sale now!
Hell Over Europe III –
ABORTED & ENTOMBED A.D. & BAEST
18/10/2019 UK London – The Dome
19/10/2019 DE Paderborn – Metal Inferno Festival
20/10/2019 DE Leipzig – Taubchentall
21/10/2019 CZ Prague – Futurum
22/10/2019 SK Bratislava – Randal club
23/10/2019 PL Warschau – Proxima
24/10/2019 LT Vilnius – Kablys
25/10/2019 LV Riga – Melna Piektdiena
26/10/2019 EE Talinn – Tapper
27/10/2019 FI Helsinki – On The Rocks
29/10/2019 SE Stockholm – Slykhust
30/10/2019 SE Gothenburg – Pustervik
31/10/2019 NO Oslo – Jon Dee
01/11/2019 DK Copenhagen – Vega
02/11/2019 DE Kassel – Goldgrube
03/11/2019 DE Mannheim – MS Complex
04/11/2019 IT Milano – Legend club
06/11/2019 ES Murcia – Garaje
07/11/2019 ES Malaga – Paris15
09/11/2019 ES Bilbao – Stage Live
10/11/2019 FR Toulouse – Metronum
11/11/2019 FR Niort – Camji
12/11/2019 FR Rennes – Ubu
13/11/2019 FR Savigny Le Temple – L'Empreinte
14/11/2019 BE Antwerp – Zappa
15/11/2019 NL Haarlem – Patronaat
16/11/2019 NL Sittard – Volt
17/11/2019 DE Hamburg – Kulturpalast
Quelle: centuryMedia.de
Ähnliche Artikel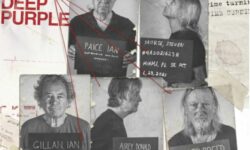 Nachdem Deep Purple die weltweite Rock Community mit der Ankündigung ihres neuen Albums "Turning To Crime" nur 15 Monate nach
Weiterlesen