News: 15 Years New Evil Music Festival am 12.10.2019 in Mannheim!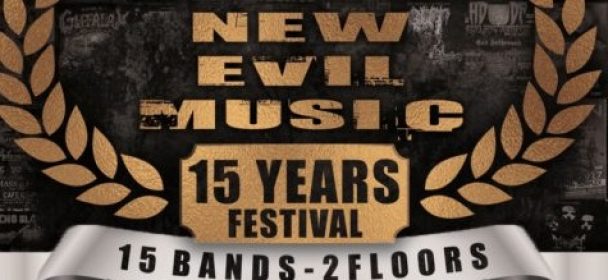 15 Years, 15 Bands, 2 Floors
MANTAR + EISREGEN + DEBAUCHERY (15 Jahre Blood For The Bloodgod-Set) + IN THE WOODS (Nor) + MILKING THE GOATMACHINE + HELRUNAR + EREB ALTOR (Swe) + AGRYPNIE + MOSAIC + SUN OF THE SLEEPLESS + ISOLE (Swe) + ARROGANZ + ENDLEVEL + SURFACE + SHORES OF NULL (Ita)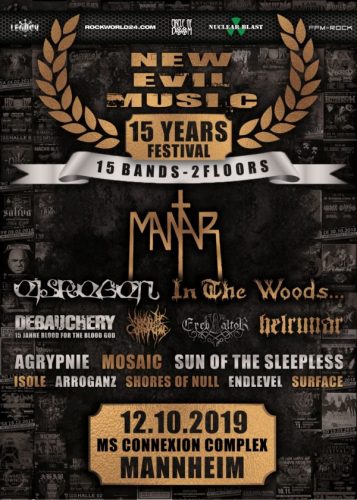 feiert New Evil Music bereits das 15-Jährige Bestehen! Aus diesem Grund stellen wir im Oktober ein einmaliges Indoor-Festival auf die Beine. Spielort wird der MS CONNEXION COMPLEX in Mannheim sein. Dort werden auf zwei Bühnen insgesamt 15 Bands spielen. Dies werden allesamt Bands sein, mit denen NEM in den vergangenen Jahren gut zusammen gearbeitet hat, oder die wir schon immer mal holen wollten. Es wird ein gemischtes Line-Up werden mit u.a. Black, Death, Doom und Genre-Verwandten Metal-Bands.
Neben den Konzerten, wird es noch jede Menge Rahmenprogramm geben. Hierzu werden wir euch nach und nach informieren. Also tragt euch den 12. Oktober 2019 schon mal fett in den Kalender ein!
Einlass 12.30 / Beginn TBA
VVK 44,00€ zzgl. Gebühren / AK TBA
Quelle: newevilmusic.de  / https://www.facebook.com/newevil.music
Ähnliche Artikel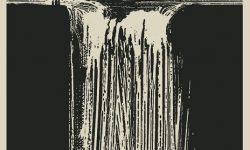 The four Danish women of Konvent may conjure up a deserved revival for the whole death doom genre when they
Weiterlesen