Walter Trout (USA) – We're All In This Together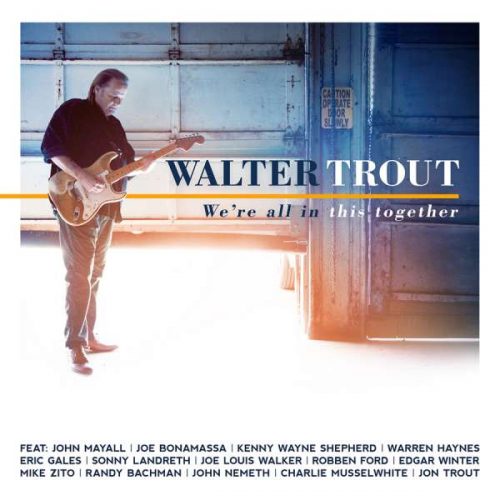 Einer der beständigsten Musiker der Bluesszene veröffentlicht dieser Tage sein neues Album. Waren die beiden Vorgänger noch stark von seiner beinahe tödlich verlaufenden Lebererkrankung geprägt, so hat er sich nun endlich frei geschwommen und hat ein Album am Start, das locker und leicht aus der Hüfte schießt. Dabei hat er sich einige Hochkaräter der internationalen Bluesszene ins Boot geholt.
Namedropping gleich am Anfang? Kann man in diesem Fall tatsächlich einmal machen, denn mit unter anderem Kenny Wayne Shepherd, Sonny Landreth, Mike Zito oder auch Robben Ford hat er sich wahre Helden geangelt. Man merkt dem Mann an, dass er seine Erkrankung hinter sich gelassen hat, seinen inneren Frieden damit geschlossen zu haben scheint. Seine Songs klingen wieder positiver, strahlen eine neue Einstellung zum Leben aus und klingen so frisch wie schon lange nicht mehr. Über 60 Minuten gibt er alles, zeigt sich von seiner rockigen Seite, präsentiert aber auch den ewig Suchenden aus den Sümpfen des tiefen Südens. Man merkt ihm seine langjährige Erfahrung mit Canned Heat oder John Mayall an, zeigt sich Trout doch hier von seiner vielseitigsten Art und präsentiert seine Musik dabei erstaunlich locker und gelöst. Rocker wie der Opener "Gonna Hurt Like Hell" mit Kenny Wayne Shepherd oder das fast schon quälende "The Other Side Of The Pillow" mit einer einzigartigen Harmonica von Charly Musselwhite zeigen Trout von seiner besten Seite. Speziell die Beteiligung langjähriger Wegbegleiter gibt dem Album seinen besonderen Touch und hebt es heraus aus seinen bisherigen Veröffentlichungen. Für mich persönlich gehört es bereits jetzt zu einem der stärksten Blues Rock Alben des Jahres!
Fazit: Hats off!
Gonna Hurt Liek Hell (Feat. Kenny Wayne Shepherd)
Ain't Going Back (Feat. Sonny Landreth)
The Other Side Of The Pillow (Feat. Charly Musselwhite)
She Listens To The Blackbird Sing (Feat. Mike Zito)
Mr. Davis (Feat. Robben Ford)
The Sky Is Crying (Feat. Warren Haynes)
Somebody Goin' Down (Feat. Eric Gales)
She Steals My Heart Away (Feat. Edgar Winter)
Crash And Burn (Feat. Joe Louis Walker)
To Much To Carry (Feat. John Nemeth)
Do You Still See Me At All (Feat. Jon Trout)
Got Nothin' Left (Feat. Randy Bachman)
Blues For Jimmy T. (Feat. John Mayall)
We're All In This Together (Feat. Joe Bonamassa)
Label: Mascot Records
VÖ: 01.09.2017
Laufzeit: 69:39 Min.
Herkunft: USA
Stil: Blues Rock
Webseite: https://www.waltertrout.com/
Ähnliche Artikel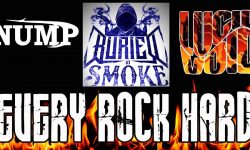 Wer es an diesem Wochenende nicht nach Balingen geschafft hat, sollte sich heute Abend ins Aschaffenburger Colos-Saal bewegen, dort boxt
Weiterlesen