THE MARCUS KING BAND – Auf Tour im Mai/Juni
Marcus King kommt im Frühsommer 2018 mit seiner Band nach Deutschland, um kurz vor der Veröffentlichung seines dritten Albums zwei Festivalauftritte und zwei Clubauftritte zu bestreiten.
Tickets sind bei www.myticket.de sowie an allen Vorverkaufsstellen erhältlich.
30.05.2018 – Ulm, Ulmer Zelt
31.05.2018 – Fulda, Kulturkeller Kreuz
01.06.2018 – Isernhagen, Blues Garage
02.06.2018 – Hamburg, Elbjazz Festival
www.marcuskingband.com
Der junge Warren Haynes-Schützling Marcus King gilt als Ausnahmetalent, das mit atemberaubender Leichtigkeit die uramerikanischen Stile Blues, Jazz, Country, Rock, Soul zu einem neuem Southern Rock-Amalgam verbindet, wie es lange nicht zu hören war. "Soul-beeinflusster, psychedelischer Southern Rock", so beschreibt der 21-jährige Sänger und Gitarrist aus Greenville, South Carolina treffend die Musik seiner Band. Das Sextett ist bekannt durch seine entfesselten Shows und ausgiebigen Jams im Stile der frühen Allman Brothers oder der Tedeschi Trucks Band.
Mehr als zwei Stunden wühlt sich THE MARCUS KING BAND durch einen Musikmix, der seinesgleichen sucht und junge wie alte Bluesfans mitreisst und begeistert.
Besetzung:
Marcus King / Gesang und Gitarre
Jack Ryan / Drums und Percussions
Stephen Campbell / Bass
Deshawn Alexander / Keyboard und Orgel
Dean Mitchell / Saxophon
Justin Johnson / Trompete, Posaune, Backing Vocals
Quelle: Noisolution.de
Ähnliche Artikel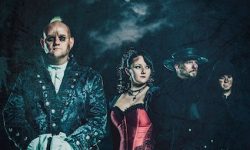 Es ist soweit: MONO INC. liefern die erste Singleauskopplung ihres neuen Albums "Welcome To Hell" - den (hitverdächtigen) Titeltrack ihres
Weiterlesen