The Last Internationale auf Tour mit Royal Thunder
Erstmals seit seinem Deutschland-Debüt im Juni 2015 wird das New Yorker Duo The Last Internationale wieder hierzulande auftreten. Gitarrist Edgey Pires und Sängerin Delila Paz supporten ihre amerikanischen Landsleute von Royal Thunder auf folgenden Shows:
07.12. Hamburg, HeadCrash
08.12. Berlin, Musik & Frieden
09.12. Köln, MTC
Ihre aktuelle Single ist ein Cover von Mahalia Jacksons "I'm Gonna Live The Life I Sing About In My Song", das sich sofort nach Release auf Nr. 1 der britischen  iTunes-Blues-Charts wiederfand.
Das langerwartete zweite Album "Soul On Fire" erscheint im Frühjahr 2018
Quelle: Sailor-Entertainment.de
Ähnliche Artikel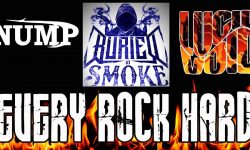 Wer es an diesem Wochenende nicht nach Balingen geschafft hat, sollte sich heute Abend ins Aschaffenburger Colos-Saal bewegen, dort boxt
Weiterlesen