Heidelberg Deathfest "HDDF" 2018 – Part III: Support Your Local Death!
ASPHYX (NL) + GUT + DESERTED FEAR + BENIGHTED (FR) + MILKING THE GOATMACHINE + GUTALAX (CZ) + LEGACY (Reunion-Show) + REVEL IN FLESH + SKINNED ALIVE + BÖSEDEATH + MORONIC
Voller Freude dürfen wir euch mitteilen, dass am 24. März 2018 die Halle 02 in Heidelberg erneut der Austragungsort für das HDDF sein wird!
Dieses Mal wollen wir unseren Schwerpunkt mehr auf einheimische und regionale Bands setzen und haben hierfür das Motto: "Support Your Local Death!" gewählt. Aber natürlich wird es auch wieder internationale Acts der "Hart-Und-Heftig-Liga" zu bewundern geben! Musikalisch wird es etwas "Old-Schooliger" ausfallen als 2017.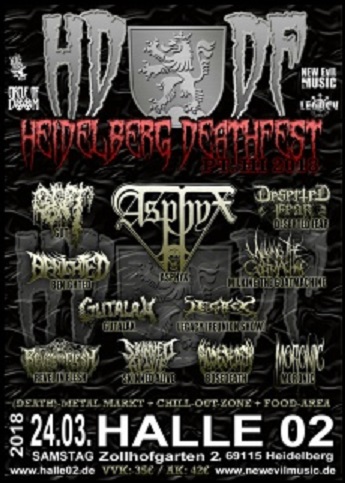 Die Kracher-Bands für 2018 lauten: ASPHYX, GUT, DESERTED FEAR, BENIGHTED, MILKING THE GOATMACHINE, GUTALAX, LEGACY, REVEL IN FLESH SKINNED ALIVE, BÖSEDEATH und MORONIC! Insgesamt werden also wieder 11 Bands am Start sein.
Einlass 13.00 Uhr, Beginn 13.30 Uhr
VVK 35€ / AK 42€
VVK unter: www.newevilmusic.de       www.eventim.de      www.reservix.de     www.metaltix.com
Quelle (Flyerpic/Info): newevilmusic.de
Ähnliche Artikel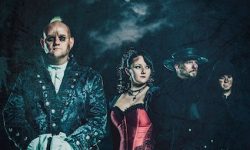 Es ist soweit: MONO INC. liefern die erste Singleauskopplung ihres neuen Albums "Welcome To Hell" - den (hitverdächtigen) Titeltrack ihres
Weiterlesen