Frank Carter & The Rattlesnakes 'Live at Brixton' OUT NOW & Tourstart!
Am 8. Dezember 2017 spielten Frank Carter & The Rattlesnakes ihre bislang größte Headliner Show in der legendären Londoner Brixton Academy und beendeten damit das erfolgreichste Jahr ihrer bisherigen Karriere. Die Band spielte ihre beiden Alben 'Blossom' und 'Modern Ruin' von Anfang bis Ende und eine Zusammenstellung aus zwölf Songs wurde am Freitag digital veröffentlicht.
Der von den Fans am meisten gefeierte Song und gleichzeitig der Höhepunkt der Show, war sicherlich 'I Hate You', der Track, der über die Jahre zur Hymne Frank Carters wurde.
Ein Moment, den sicherlich weder die Band noch die Fans jemals vergessen werden und der in diesem live Video festgehalten wurde
Neben der digitalen 12-Song Version, gibt es eine limitierte physische Editions mit allen 23 Tracks. Diese kann hier bestellt werden: https://frankcarterandtherattlesnakes.pmstores.co
Die Band startet heute ihre Europatour, in deren Rahmen sie für fünf Dates nach Deutschland kommen wird:
16.03. Hamburg, Headcrash SOLD OUT
25.03. Köln, Luxor SOLD OUT
26.03. Berlin, Bi Nuu
27.03. München, Strom
28.03. Wiesbaden, Kesselhaus
Quelle: blackmob.de
Ähnliche Artikel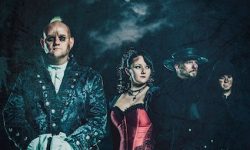 Es ist soweit: MONO INC. liefern die erste Singleauskopplung ihres neuen Albums "Welcome To Hell" - den (hitverdächtigen) Titeltrack ihres
Weiterlesen