ELVENKING (Italy) – Secrets Of The Magick Grimoire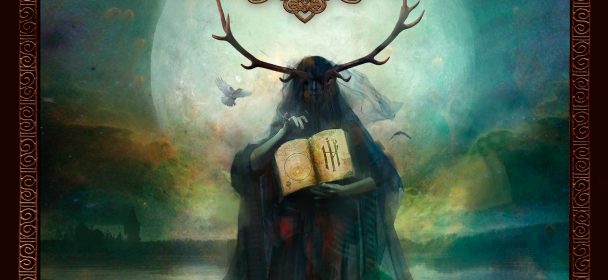 Wenn mich nicht alles täuscht, ist "Secrets Of The Magick Grimoire" bereits Album Nummer 9 in knapp 20 Jahren, welches die Italiener Elvenking dieser Tage veröffentlichten und was gibt es neues zu berichten?
Eigentlich nichts. Die Elbenkönige tun genau das, was sie schon immer taten und das sehr sorgsam und einfallsreich! Irgendwie klingen Elvenking immer noch nach allen Powermetalbands dieses Planeten, irgendwie aber auch überhaupt nicht. Sie ziehen sich die bedeutsamsten Merkmale und Trademarks der Bands rauf und schaffen es, diese in Ihren Songs unterzubringen, ohne dabei stets und ständig "Copy-Alarm" geben zu müssen, denn auf einmal klingt alles nur noch nach Elvenking. Das funktioniert inzwischen 2 Dekaden lang und wird sich (hoffentlich) auch in den nächsten Dekaden nicht ändern. Irgendeine kleine Neuerung kommt bei den Folk-Power-Epic-Metallern trotzdem immer dazu. Diesmal ist es ein bißchen Mittelalter, was hier und da musikalisch verbraten wurde, ohne dabei auf die typischen Merkmale zu verzichten, sprich: es klingt diesmal alles etwas kompakter und durchdacht und vor allem: fett produziert!
Fazit: Obwohl ich "Secrets Of The Magick Grimoire" für das beste Album in der Karriere von Elbenking halte, gibt es zu dem vielen Licht auch 2-3 Schatten, die (bei mir) nicht wirklich zünden, doch der überwiegende Teil des Albums ist mehr als nur hörenswert für die Fraktion, die ein Faible für beinahe typischen italienischen Power Metal hat, der von einer sehr hohen Stimme gekonnt geführt und nicht langweilig wird. Die Band hat eindeutig die nächste Stufe der musikalischen Evolution erklommen… Unbedingt mind. mal reinhören!
Tracklist:
01 – Invoking The Woodland Spirit
02 – Draugen's Maelstrom
03 – The One We Shall Follow
04 – The Horned Ghost And The Sorcerer
05 – A Grain Of Truth
06 – The Wolves Will Be Howling Your Name
07 – 3 Ways To Magick
08 – Straight Inside Your Winter
09 – The Voynich Manuscript
10 – Summon The Dawn Light
11 – At The Court Of The Wild Hunt
12 – A Cloak Of Dusk
Line-Up:
Damna (vocals)
Aydan (guitar)
Rafahel (guitar)
Jakob (bass)
Lethien (violin)
Symohn (drums)
Label: AFM Records
VÖ: 10.11.2017
Spielzeit: 61:21 Min.
Herkunft: Italien
Stil: Metal, Power Metal, Folk Metal, Epic Metal
Internet:
HP – http://www.elvenking.net/
FB – https://www.facebook.com/elvenking.official/
Youtube:
Ähnliche Artikel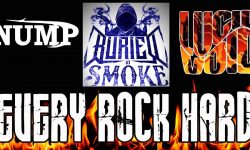 Wer es an diesem Wochenende nicht nach Balingen geschafft hat, sollte sich heute Abend ins Aschaffenburger Colos-Saal bewegen, dort boxt
Weiterlesen