The Eagles (USA) – Hotel California (40th Anniversary)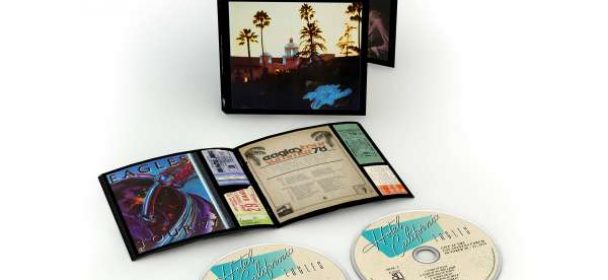 Was soll man über einen der größten Klassiker der Musikgeschichte noch schreiben, das nicht alles schon geschrieben wurde. Über ein Album, das sich weltweit mehr als 32 Millionen mal verkauft hat und auch 40 Jahre nach seinem Erscheinen noch immer neue Fans findet. Etliche Male neu aufgelegt und mit dem Titelsong einen der 10 besten Songs aller Zeiten in sich tragend, erscheint es nun erneut anlässlich des 40-jährigen Geburtstags in mehreren Varianten.
Über die 9 Songs des Ursprungsalbums ist es müßig auch nur annährend neue Worte zu finden. Über die der Doppel-CD beigefügten 10 Livesongs allerdings schon. Mitgeschnitten zwischen dem 20. – 22. Oktober 1976 im L.A. Forum, zeigt es wohl leider nur einen Ausschnitt der Show, welche die Eagles an diesen Abenden gespielt haben. Ob nun kein weiteres Material mehr vorliegt oder man sich die anderen Songs noch für einen späteren Release aufhebt, sei einmal dahin gestellt. Wer einmal in seinem Leben die Eagles live erleben durfte, weiß um die Perfektion, die die Band in ihren Shows an denTag legt. Hier klingt alles wie aus einem Guß, wie als 1:1 Replikat der Studioaufnahmen. Perfektion in Reinkultur. Doch während einigen anderen Bands bei solch einer hochgradig exzellenten Show häufig das Herz und die Seele verloren gehen, alles in einer gewissen Sterilität untergeht, verstehen es Don Henley und Co. ihre Fans mitzureißen, ihnen das Bestmögliche zu präsentieren und trotzdem Emotionen einfließen zu lassen. So auch an diesen Abenden 1976. Die Songs, dabei einige, die ansonsten eher seltener im Repertoire vorkommen, klingen fantastisch, zeigen eine Band auf dem Höhepunkt ihres Schaffens und in bestechender Verfassung. Da es ohnehin nur sehr wenige Livemitschnitte der frühen Jahre gibt, ist das Werk für Fans ohnehin unerlässlich und eine Kaufverpflichtung.
Fazit: Keine weiteren Worte nötig.
CD 1:
Hotel California
New Kid In Town
Life In The Fast lane
Wasted Time
Wasted Time (Reprise)
Victim Of Love
Pretty Maids All In A Row
Try And Love Again
The Last Resort
CD 2:
Take It Easy
Take It To The Limit
New Kid In Town
James Dean
Good Day In Hell
Witchy Woman
Funk #49
One Of These Nights
Hotel California
Already Gone
Label: Rhino Records/Warner Music Entertainment
VÖ: 24.11.2017
Laufzeit: 91:57 Min.
Herkunft: USA
Stil: Westcoast/Country Rock
Webseite: https://eagles.com/
Ähnliche Artikel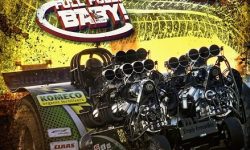 Die V8 WANKERS aus Offenbach melden sich mit Album Numero 9 zurück und tun das, was sie am besten können:
Weiterlesen